The Shadowy Horses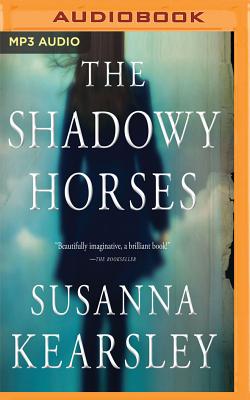 A brooding and atmospheric Scottish tale from a RITA and RT Reviewers Choice Award-winning and New York Times and USA Today best-selling author.
The invincible ninth Roman Legion marches from York to fight the Northern tribes, and then vanishes from the pages of history. When Verity Grey goes looking for them, she may find more than she bargained for.
Archaeologist Verity Grey has been drawn to the dark legends of the Scottish Borderlands in search of the truth buried in a rocky field by the sea.
Her eccentric boss has spent his whole life searching for the resting place of the lost Ninth Roman Legion and is convinced he's finally found it - not because of any scientific evidence, but because a local boy has "seen" a Roman soldier walking in the fields, a ghostly sentinel who guards the bodies of his long-dead comrades.
Here on the windswept shores, Verity may find the answer to one of the great unsolved mysteries of our time. Or she may uncover secrets someone buried for a reason.
A modern gothic historical fiction with elements of mystery, ghosts, and romance from New York Times and USA Today best-selling author Susanna Kearsley.
Fans of Diana Gabaldon, Mary Stewart, Kate Morton, and Daphne Du Maurier will want to join Julia and Mariana on their journeys to love, past and present.
ISBN: 9781536667349
ISBN-10: 9781536667349
Publisher: Audible Studios on Brilliance
Publication Date: 01/31/2017 - 12:00am
On Sale: 01/31/2017 - 12:00am
Language: English
Categories