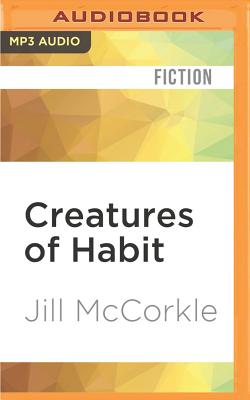 Creatures of Habit: Stories
Unavailable
Jill McCorkle's new collection of 12 short stories is peopled with characters brilliantly like us - flawed, clueless, endearing. These stories are also "animaled" with all manner of mammal, bird, fish, reptile - also flawed and endearing. She asks, what don't humans share with the so-called lesser species? Looking for the answer, she takes us back to her fictional home town of Fulton, North Carolina, to meet a broad range of characters facing up to the double-edged sword life offers hominids.
The insight with which McCorkle tells their stories crackles with wit, but also with a deeper - and more forgiving - wisdom than ever before. In "Billy Goats," Fulton's herd of seventh graders cruises the summer nights, peeking into parked cars, maddening the town madman. In "Monkeys," a widow holds her husband's beloved spider monkey close, along with his deepest secrets. In "Dogs," a single mother who works for a veterinarian compares him - unfavorably - with his patients. In "Snakes," a seasoned wife sees what might have been a snake in the grass and decides to step over it. And, in the exquisite final story, "Fish," a grieving daughter remembers her father's empathy for the ugliest of all fishes. The success behind Jill McCorkle's short stories - and her novels - is, as one reviewer noted, her skill as an archaeologist of the absurd, an expert at excavating and examining the comedy of daily life (Richmond Times-Dispatch). Yes, and also the tragedy.
The complete list of narrators includes Claire Slemmer, Allyson Johnson, Allison McLemore, Lauren Fortgang, Margaret Daly, Holly Fielding, Elizabeth Evans, and Gabra Zackman.
ISBN: 9781531803926
ISBN-10: 9781531803926
Publisher: Audible Studios on Brilliance
Publication Date: 08/16/2016 - 12:00am
On Sale: 08/16/2016 - 12:00am
Language: English
Categories