Toaff's Way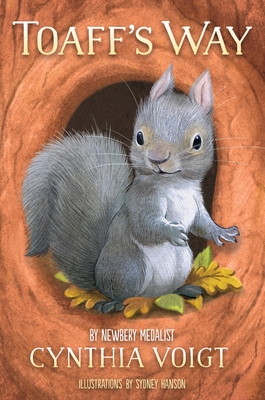 Meet Toaff: a lovable squirrel, and new standout character, searching for a place to call home in this gem of a story by a Newbery Medal-winning author.

Toaff is a small squirrel full of big questions. Why must I stay away from the human's house? Why shouldn't I go beyond the pine trees? Why do we fight with the red squirrels across the drive? His sister shrugs--that's just the way things are. His brother bullies--because I said so. And the older squirrels scold--too many questions! Can Toaff really be the only one to wonder why?

When a winter storm separates him from his family, Toaff must make his own way in the world. It's a world filled with danger--from foxes and hawks and cats to cars and chainsaws. But also filled with delight--the dizzying scent of apple blossoms, the silvery sound of singing, the joy of leaping so far you're practically flying. Over the course of a year, Toaff will move into (and out of) many different dreys and dens, make some very surprising friends (and a few enemies), and begin to answer his biggest questions--what do I believe and where do I belong?

Master storyteller Cynthia Voigt offers readers a rich and rewarding story of finding one's way in the world.
CYNTHIA VOIGT is the acclaimed author of many books, including Dicey's Song, winner of the Newbery Medal; A Solitary Blue, winner of a Newbery Honor; and Homecoming, a National Book Award finalist. For the body of her work, Cynthia Voigt was honored with the Margaret A. Edwards Award for Outstanding Literature for Young Adults. For younger readers, her books include the Mister Max trilogy, Teddy & Co., Young Fredle, and Angus and Sadie. You can read more about her work at CynthiaVoigt.com.