Taking the Reins (An Ellen & Ned Book)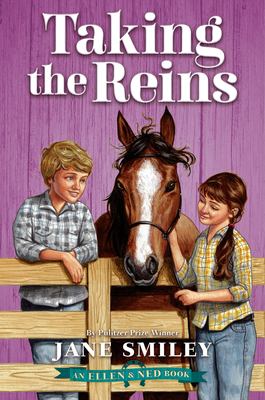 Taking the Reins (An Ellen & Ned Book)
Out of Stock In Store (Click to Order)
A young rider encounters well-known horses and new friends in the final installment of the Ellen & Ned trilogy by Pulitzer Prize winner Jane Smiley.

Ellen's family has moved to a new town...but some things, like her love for horses, remain the same. Ellen is now the proud owner of her own horse, Tater. She's learning new skills and challenging herself as a rider...but she still can't stop thinking about Ned, the feisty former racehorse she sees on the ranch during her lessons.

In the meantime, Ellen's making new friends and encountering old ones. Most exciting of all is Da, a boy from a riding family who is possessed of a spirit of mischief and daring and knows his own mind.

Ellen still has a lot to learn...about horses, friendship, and herself. And will she ever be able to get Ned off her mind?
Jane Smiley is the author of numerous novels, including A Thousand Acres, which was awarded the Pulitzer Prize, and most recently, Golden Age, the concluding volume of The Last Hundred Years trilogy. She is also the author of five works of nonfiction and a series of books for young adults. A member of the American Academy of Arts and Letters, she has also received the PEN Center USA Lifetime Achievement Award for Literature. She lives in Northern California.