On Being 40(ish)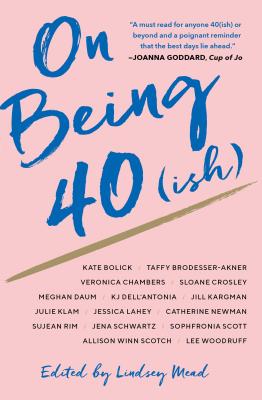 "Like a pep talk from your big sister, favorite cousin and wise best friend. These 15 smart, funny women expertly capture what it's like to get older... A must read for anyone 40ish or beyond." —Joanna Goddard, Cup of Jo

Fifteen powerful women and writers you know and love—from the pages of the New Yorker, New York Times, Vogue, Glamour, and The Atlantic—offer captivating, intimate, and candid explorations about what it's really like turning forty—and that the best is yet to come.

The big 4-0. Like eighteen and twenty-one, this is a major and meaningful milestone our lives—especially for women. Turning forty is a poignant doorway between youth and…what comes after; a crossroads to reflect on the roads taken and not, and the paths yet before you. The decade that follows is ripe for nostalgia, inspiration, wisdom, and personal growth.

In this dazzling collection, fifteen writers explore this rich phase in essays that are profound, moving and above all, brimming with joie de vivre. With a diverse array of voices—including Veronica Chambers, Meghan Daum, Kate Bolick, Taffy Brodesser-Akner, Sloane Crosley, KJ Dell'Antonia, Julie Klam, Jessica Lahey, Catherine Newman, Sujean Rim, Jena Schwartz, Sophfronia Scott, Allison Winn Scotch, Lee Woodruff, and Jill Kargman—On Being 40(ish) offers deeply personal, often hilarious perspectives across a range of universal themes—friendship, independence, sex, beauty, aging, wisdom, and the passage of time.

Beautifully designed to make the perfect gift, and to be a treasure to turn to time and time again, On Being 40(ish) reflects the hopes, fears, challenges and opportunities of a generation.
Lindsey Mead has written for Brain, Child Magazine, Quiet Revolution, Literary Mama, and Huffington Post. She received a BA in English from Princeton University and an MBA from Harvard School of Business. She lives with her husband and two children in Cambridge, Massachusetts. On Being 40(ish) is her first book.
ISBN: 9781501172120
ISBN-10: 9781501172120
Publisher: Simon & Schuster
Publication Date: 02/05/2019 - 12:00am
On Sale: 02/05/2019 - 12:00am
Pages: 256
Language: English
Categories
Literary Collections / Women Authors