Mistletoe and Murder (A Wells & Wong Mystery)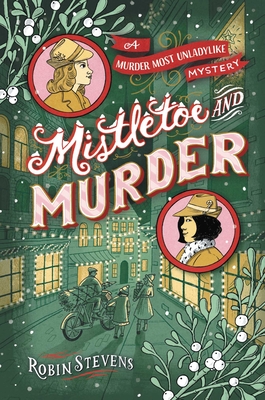 Mistletoe and Murder (A Wells & Wong Mystery)
Out of Stock In Store (Click to Order)
Hazel and Daisy trade mistletoe for a murder investigation and set out to save the day (Christmas Day that is!) in this fabulously festive fifth novel of the Wells & Wong Mystery series.

Daisy Wells and Hazel Wong are spending the Christmas holidays in snowy Cambridge. Hazel is looking forward to a calm vacation among the beautiful spires, cozy libraries, and inviting tea-rooms.

But there is danger lurking in the dark stairwells of ancient Maudlin College and two days before Christmas, there is a terrible accident. At least, it appears to be an accident—until the Detective Society looks a little closer, and realizes a murder has taken place. Faced with several irritating grown-ups and fierce competition from a rival agency, they must use all their cunning and courage if they're going to find the killer before Christmas dinner.
Robin Stevens was born in California and grew up in Oxford, England, across the road from the house where Alice of Alice in Wonderland lived. Robin has been making up stories all her life. She spent her teenage years at boarding school, reading a lot of murder mysteries and hoping that she'd get the chance to do some detecting herself (she didn't). She studied crime fiction in college and then worked in children's publishing. Robin now lives in London with her pet bearded dragon, Watson.