Terry Pratchett's Discworld Calendar 2020: Discworld Destinations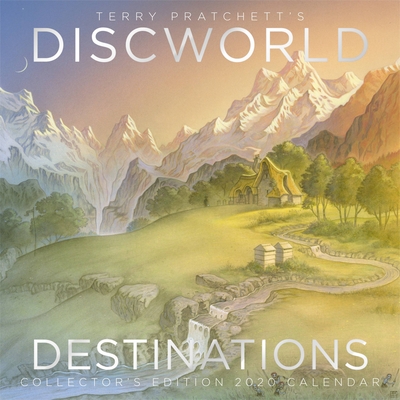 Terry Pratchett's Discworld Calendar 2020: Discworld Destinations

The calendar dates are extensive, and exhaustively researched, and include all major real-time calendrical data for Great Britain, Eire, Australia, New Zealand and the USA, as well as notable Discworld dates.

This year's calendar sees us go on a voyage of discovery. As you head through the year, work your way across the Disc's landscapes: take in the meadows of The Chalk, the peaks of the Ramtops, even the titanic span of Great A'Tuin's flippers.
Terry Pratchett (Author)

Sir Terry Pratchett is a publishing phenomenon. Among his many prizes and citations are the World Fantasy Life Achievement Award, the Carnegie Medal, the BSFA Award, eight honorary doctorates and, of course, a knighthood. In 2012, he won a BAFTA for his documentary on the subject of assisted suicide, 'Terry Pratchett: Choosing to Die'. He is the author of fifty bestselling books but is best known for the globally renowned Discworld series.

The first Discworld novel, The Colour of Magic, was published in 1983, and the series is still going strong almost three decades later. Four Discworld novels - Hogfather, Going Postal, The Colour of Magic and The Light Fantastic - have been adapted for television, with more to follow. His books have sold approximately 85 million copies worldwide (but who's counting?), and been translated into forty languages.

In 2007, Terry Pratchett was diagnosed with early onset Alzheimer's Disease. He died in 2015.

Paul Kidby (Illustrator)

Paul Kidby discovered Terry Pratchett's Discworld in 1993 and since then has devoted his working life to the place. He is the illustrator of THE PRATCHETT PORTFOLIO, TERRYPRATCHETT'S DISCWORLD COLOURING BOOK, the bestsellers THE LAST HERO and THEART OF DISCWORLD, as well as the Discworld DIARIES, cards, T-shirts, maps, mugs and, of course, the covers.
ISBN: 9781473228351
ISBN-10: 9781473228351
Publisher: Gollancz
Publication Date: 11/19/2019 - 12:00am
On Sale: 11/19/2019 - 12:00am
Language: English
Categories