Death and Friends, A Discworld Journal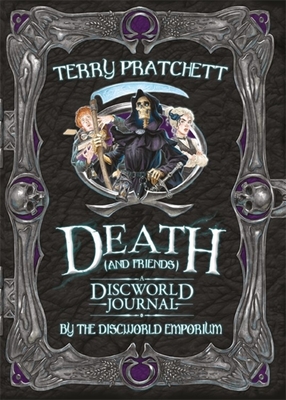 Death and Friends, A Discworld Journal
There's nothing like a journal to get you thinking about life, the universe, and a Disc suspended by four elephants standing atop a giant turtle. Who better to help you than Death, Sir Terry Pratchett's most enduring anthropomorphic personification? He's seen it all.

With space aplenty to plan your daily routines, express your wildest dreams, or write your life story, you'll be aided and abetted by Death's wit, wisdom and observations along the way. Fill the pages how you like, there's no wrong way to live a life. Or complete a journal.

So come along, brief mortal, and make the most of Death's OUTSIDE PERSPECTIVE.
Sir Terry Pratchett is a publishing phenomenon. Among his many prizes and citations are the World Fantasy Life Achievement Award, the Carnegie Medal, the BSFA Award, eight honorary doctorates and, of course, a knighthood. In 2012, he won a BAFTA for his documentary on the subject of assisted suicide, 'Terry Pratchett: Choosing to Die'. He is the author of fifty bestselling books but is best known for the globally renowned Discworld series.

The first Discworld novel, The Colour of Magic, was published in 1983, and the series is still going strong almost three decades later. Four Discworld novels - Hogfather, Going Postal, The Colour of Magic and The Light Fantastic - have been adapted for television, with more to follow. His books have sold approximately 85 million copies worldwide (but who's counting?), and been translated into thirty-seven languages.

In 2007, Terry Pratchett was diagnosed with early onset Alzheimer's Disease. He died in 2015.
ISBN: 9781473224292
ISBN-10: 9781473224292
Publisher: Gollancz
Publication Date: 11/05/2019 - 12:00am
On Sale: 11/05/2019 - 12:00am
Pages: 128
Language: English
Categories