Makan: Recipes from the Heart of Singapore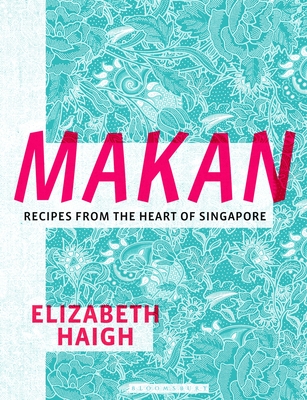 Makan: Recipes from the Heart of Singapore
Likely On Our Shelves
'It's impossible to pinpoint a certain specific cuisine to one region, so when people ask me what type of food is Singaporean, I simply reply with "the delicious type". Southeast Asian cuisine is a proud mix of migrants and influences from all across Asia, which fuses together to create something even greater than the original.'

Meaning 'to eat' or 'dinner time' in Malay, in Makan, rising star Elizabeth Haigh draws together recipes that have been handed down through many generations of her family, from Nonya to Nonya, creating a time-capsule of a cuisine. Growing up, it was through food that Elizabeth's mum demonstrated her affection, and the passion and love poured into each recipe is all collated here; a love letter to family cooking and traditions.

Recipes include:
Nonya-spiced braised duck stew
pickled watermelon and radish salad
beef rendang
Singapore chilli crab
fried tofu with spicy peanut sauce
spicy noodle soup
nasi goreng (spicy fried rice)
Miso apple pie
… and many more!

Adapting these traditional recipes to ensure ingredients are easily sourced in the West, Elizabeth brings a taste of Singapore to your own kitchen.
Elizabeth Haigh was the founding head chef at Pidgin in East London, where she guided the popular neighbourhood restaurant to a Michelin star barely a year after opening. Her dishes have been described as bold and exciting, and she fuses her Singaporean-British heritage and fine dining cooking experience with a passion for wood-fire cooking. Elizabeth originally studied architecture, but after a stint on Masterchef UK in 2011 she realised that cooking was her true calling. Since the show, Elizabeth has studied and worked with some of London's top chefs such as Neil Rankin at Smokehouse and Bubbledog's, The Kitchen Table. In 2017 Elizabeth was awarded 'Chef to Watch' by the National Restaurant Awards and listed in Observer Food Monthly's '50 of Observer Food Monthly's favourite things'.

Elizabeth has had guest appearances on BBC's Saturday Kitchen and Masterchef UK, and as a Financial Times Panellist, and she was the keynote speaker for SAUCE '17 forum in Estonia. Elizabeth founded Kaizen House in 2018, a place of innovation and creativity which embodies an ethos and drive to learn and share. Kaizen House includes a YouTube channel, collaborations and restaurant concepts such as Mei Mei, launched in 2019, and Ba in 2020.

@kaizen_house / @the_modernchef