So-Called Normal: A Memoir of Family, Depression and Resilience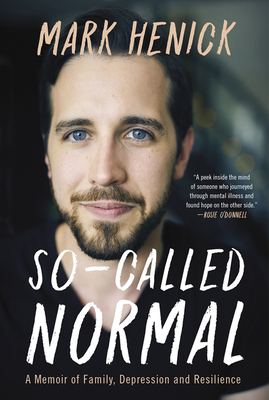 So-Called Normal: A Memoir of Family, Depression and Resilience
Out of Stock In Store
A vital and triumphant story of perseverance and recovery by one of Canada's foremost advocates for mental health
When Mark Henick was a teenager in Cape Breton, Nova Scotia, he was overwhelmed by depression and anxiety that led to a series of increasingly dangerous suicide attempts. One night, he climbed onto a bridge over an overpass and stood in the wind, clinging to a girder. Someone shouted, "Jump, you coward!" Another man, a stranger in a brown coat, talked to him quietly, calmly and with deep empathy. Just as Henick's feet touched open air, the man in the brown coat encircled his chest and pulled him to safety. This near-death experience changed Henick's life forever.
So-Called Normal is Henick's memoir about growing up in a broken home and the events that led to that fateful night on the bridge. It is a vivid and personal account of the mental health challenges he experienced in childhood and his subsequent journey toward healing and recovery. 
MARK HENICK's TEDx talk about the stranger who saved his life has been viewed millions of times, and is among the most watched TEDx talks ever. Mark has appeared in hundreds of television, radio, print and online features about mental health. As host of both his So-Called Normal podcast, and the Living Well podcast for Morneau Shepell, he has interviewed well over a hundred experts, celebrities, and public figures about mental health. Mark previously served as the youngest ever board director for the Mental Health Commission of Canada, and the youngest president of a provincial Canadian Mental Health Association division in history. Mark's various roles at CMHA have included frontline clinician, program manager, and most recently as National Director of Strategic Initiatives. Presently, Mark owns a boutique mental health media consulting firm, and he is a high-demand international keynote speaker on mental health recovery.