Through the Evil Days: A Clare Fergusson and Russ Van Alstyne Mystery (Fergusson/Van Alstyne Mysteries #8)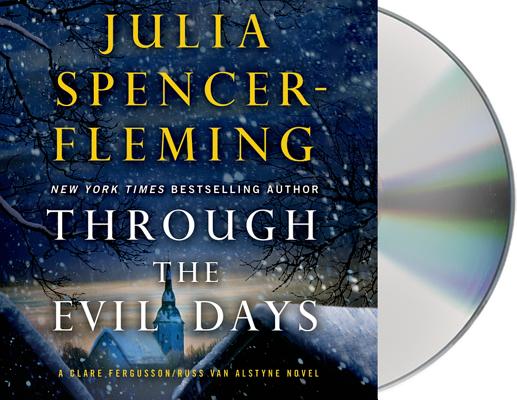 Through the Evil Days: A Clare Fergusson and Russ Van Alstyne Mystery (Fergusson/Van Alstyne Mysteries #8)
Now a New York Times bestselling author, Julia Spencer-Fleming rises to the accolade with a powerful, and emotionally charged novel fans have been yearning for.
On a frigid January night, Chief of Police Russ Van Alstyne and Reverend Clare Fergusson are called to the scene of a raging fire, that quickly becomes a double homicide and kidnapping. Which is the very last thing Russ needs...Currently he's struggling with the prospect of impending fatherhood. And his new wife is not at all happy with his proposal for their long-delayed honeymoon: a week in an unelectrified ice-fishing cabin. The vestry of St. Alban's Church has called for the bishop to investigate Clare's "unpriestly" pregnancy. She has one week to find out if she will be scolded, censured, or suspended from her duties. Officer Hadley Knox is having a miserable January as well. Her on-again-off-again lover, Kevin Flynn, has seven days to weigh an offer from the Syracuse Police Department that might take him half a state away.
As the days and hours tick by, Russ and Clare fight personal and professional battles they've never encountered. In the course of this one tumultuous week the lives of the Millers-Kill residents readers have come to love and cherish change forever. Listeners have waited years for Through The Evil Days and Julia Spencer-Fleming delivers with the exquisite skill and craftsmanship that have made her such a success.
JULIA SPENCER-FLEMING is The New York Times bestselling author of One Was A Soldier, and an Agatha, Anthony, Dilys, Barry, Macavity, and Gumshoe Award winner. She studied acting and history at Ithaca College and received her J.D. at the University of Maine School of Law. Her books have been shortlisted for the Edgar, Nero Wolfe, and Romantic Times RC awards. Julia lives in a 190-year-old farmhouse in southern Maine.

Suzanne Toren has over 30 years of experience in recording.  She won the American Foundation for the Blind's Scourby Award for Narrator of the Year in 1988, and AudioFile magazine named her the 2009 Best Voice in Nonfiction & Culture.  She is also the recipient of multiple Earphones Awards. Her many credits include works by Jane Smiley, Margaret Weis, Jerry Spinelli, Barbara Kingsolver, and Cynthia Rylant. AudioFile also raves, "Toren brings a distinguishing warmth and power to her narrations. Her talents extend to both fiction and nonfiction, and in her recording career of 30-plus years she has given listeners heart-wrenching memoirs, lively history, engaging light fiction, and involving mysteries." Toren also performs on and off-Broadway and in regional theatres.