The Most Wonderful Time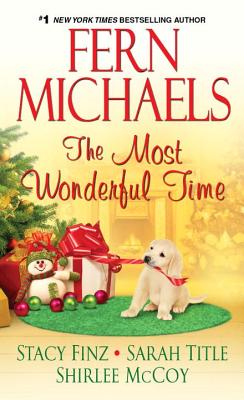 The Most Wonderful Time
Unavailable
What goes better with mistletoe and merriment than the sweet beginnings of romance?
 
"Christmas Passed" by Fern Michaels
Three years after her husband's death, Brandy Heyers still finds that celebrating the holidays without him is anything but jolly. Then handsome widower Ryan Rogers shows her that moving on is possible, and her frozen heart begins to melt… 
 
"A Glory Junction Christmas" by Stacy Finz
When Hannah Baldwin hears her ex is getting remarried, she's ready to give up on Christmas, not to mention love. But the best gifts come in unexpected packages, and old friend Josh Garner is just the man to convince her that the coming New Year is going to be the happiest yet… 
 
 "Moonshine and Mistletoe" by Sarah Title
A holiday fling is all Emma Fallader expects when she meets gorgeous fiddler Abe Tate at her friend's wedding—but after just days together, it isn't all she wants. Can the spirit of the season work its special magic for two people separated by more than miles?   
 
"An Apple Valley Christmas" by Shirlee McCoy
Now that her beloved dad is gone, Emma Baily is facing the holidays alone—until her ex, Jack McAllister, shows up to help her close her father's estate. After four years apart, only the magic of Christmas will show Emma that joy is a gift meant to be shared…
FERN MICHAELS is the USA Today and New York Times bestselling author of the Sisterhood, Men of the Sisterhood, and Godmothers series, as well as dozens of other novels and novellas. There are over ninety-five million copies of her books in print. Fern Michaels has built and funded several large day-care centers in her hometown, and is a passionate animal lover who has outfitted police dogs across the country with special bulletproof vests. She shares her home in South Carolina with her four dogs and a resident ghost named Mary Margaret. Visit her website at www.fernmichaels.com.

STACY FINZ is a former award-winning reporter for the San Francisco Chronicle. After twenty years-plus covering notorious serial killers, naked-tractor-driving farmers, fanatical foodies, aging rock stars and weird Western towns, she figured she had enough material to write fiction. Readers can visit her website at www.stacyfinz.com.

SARAH TITLE has worked as a barista, a secretary, a furniture painter, and once managed a team of giant walking beans. She currently leads a much more normal life as a librarian in West Virginia. She is the author of the novels Kentucky Home and Two Family Home. She comments irregularly and insightfully on her blog, Title, Author (www.sarahtitle.com).

SHIRLEE McCOY spent her childhood making up stories and acting them out with her sister. It wasn't long before she discovered Nancy Drew, The Hardy Boys, her mother's gothic Romances…and became an ardent fan of romantic suspense. She still enjoys losing herself in a good book. And she still loves making up stories. Shirlee and her husband live in Maryland and have five children. Readers can visit her website at www.shirleemccoy.com.
ISBN: 9781420135701
ISBN-10: 9781420135701
Publisher: Zebra
Publication Date: 10/25/2016 - 12:00am
On Sale: 10/25/2016 - 12:00am
Pages: 416
Language: English
Categories
Fiction / Short Stories (single author)