Colonial Spirits: A Toast to Our Drunken History (Hardcover)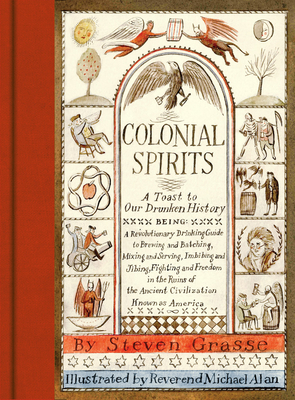 $24.95
Out of Stock - Click to Order
About the Author
---
Steven Grasse, founder of Art in the Age of Mechanical Reproduction in Old City, Philadelphia, is the owner of the Tamworth Distilling and Mercantile and the man behind Hendrick's Gin and Narragansett beer. Art in the Age's line of heralded spirits have been featured in Vanity Fair, the New York Times, the Wall Street Journal, and other publications.
Praise For…
---
"From temperance tonics to stiffer stuff, Steven Grasse takes readers on a wild romp through America's early drinking traditions and updates them for modern bars and kitchens. Let's raise our tankards to life, liberty, and the pursuit of getting well and truly oiled."

— Matthew Rowley
"Colonial Spirits is a drunken romp through an era that shares an affinity with the farm-to-table culture that is just now hitting the drinking world. Steven Grasse's insatiable curiosity with regard to history is matched only by the creativity which he applies to reinterpreting heritage recipes."

— Colin Spoelman
"Hooch, firewater, bone-loosener, giggle juice, lunatic soup. No matter what you call it or to what capacity you indulge, this is the ideal read for anyone with an affinity for the drink and a thirst for its bottomless history."

— Dave Lombardo
"Steven Grasse is the mad genius of historical spirits!"

— Andrea Wulf
"Mix up your own tankard of Cock Ale or Rattle Skull and settle in for Steven Grasse's slightly soused tale of America's colonial boozing traditions."

— Joe Sixpack
"Colonial Spirits reminds us all that if it wasn't for the poisonous water, we wouldn't have booze."

— Warren Bobrow
"A center of brewing and distilling, colonial Philadelphia was the wettest town in the colonies. With punch and Madeira its cultural midwife, along with some of the finest wine cellars in the nation, we still wonder at the glories of rye whisky for which the city was justly famous. Steven Grasse has indeed brought alive the story of our drinking past in a colorful narrative for anyone who enjoys culinary history with glass in hand."

— Dr. William Woys Weaver