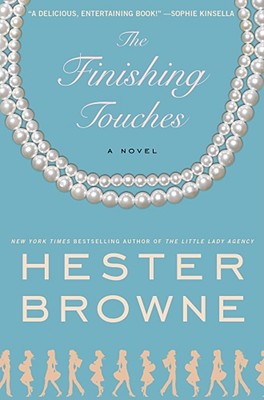 The Finishing Touches
Unavailable
In New York Times bestselling author Hester Browne's delightful new novel, a fading English finishing school is about to get a twenty-first-century makeover. Out with white gloves and flower arranging, in with managing mortgagesand do-it-yourself manicures! Behind this remarkable transformation is business-savvy Betsy Phillimore, with her own unique connection to London's esteemed Phillimore Academy for Young Ladies....
Twenty-seven years ago, an infant turned up on the Academy's doorstep, with a note tacked to her blanket by an elegant golden brooch -- Please take care of my baby. I want her to grow up to be a proper lady. Loved by Lady Frances Phillimore and her kindhearted staff, Betsy grew up aspiring to be an Academy girl. But when Franny and her husband, Lord Phillimore, advise Betsy to instead hone her considerable math skills at college, she brokenheartedly leaves behind the only family she's known.
Now, on the sad occasion of Lady Frances's memorial service, Betsy comes back to find the school in disrepair, the enrollment down, and Lord P. desperate to save his legacy. Enter Betsy, the numbers genius, and her business plan -- to replace dusty protocol with the essentials girls need today: cell phone etiquette, eating sushi properly, handling credit cards, choosing the perfect little black dress, negotiating a pre-nup, and other lessons in independent living.
But Betsy may have bitten off more than she can chew. Can she win over the school's snobby headmistress and its handsome but risk-averse treasurer? Returning to London also means facing her own unfinished business, as she crosses paths with her sexy girlhood crush...and blowing the dust off clues to a lifelong mystery: who were her parents, and why did they abandon her? If knowledge is power, Betsy is on the brink of truly becoming her own woman, and embracing the one thing she's wanted all along: a place to call home.
A bittersweet journey of laughter and tears, The Finishing Touches will have you gleefully turning pages through dinner with elbows on the table -- bad manners, perhaps, but excusable for one utterly irresistible read.
ISBN: 9781416540076
ISBN-10: 9781416540076
Publisher: Gallery Books
Publication Date: 06/09/2009 - 12:00am
On Sale: 06/09/2009 - 12:00am
Pages: 416
Categories