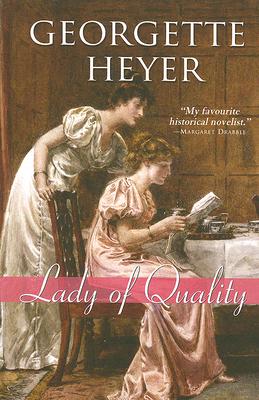 Lady of Quality
Order Online (Out of Stock In Store)
"A writer of great wit and style...I've read her books to ragged shreds."-Kate Fenton, Daily Telegraph
The spirited and independent Miss Annis Wychwood is twenty-nine and well past the age for falling in love. But when Annis embroils herself in the affairs of a pretty runaway heiress, Miss Lucilla Carleton, she is destined to see a great deal of her fugitive's uncivil and high-handed guardian, Mr. Oliver Carleton. Befriending the wayward girl brings unexpected consequences, among them the conflicting emotions aroused by her guardian, who is quite the rudest man Annis has ever met...
Georgette Heyer's historical novels have charmed and delighted millions of readers. Her smart, independent heroines and dashing heroes brilliantly illuminate one of the most exciting and fascinating eras of English history, when drawing rooms sparkled with well-dressed nobility, and romantic intrigues ruled the day.
"In this delectable Georgette Heyer novel, the lady of quality and her bit-of-a-rake swain are the ones on whom our eyes are fixed. They don't play us false. Miss Heyer is in top form...romantic, amusing, and full of tart-tongued comment on the mores of the time."-Publishers Weekly
"Set in Bath in the last years of the Regency, it has the authentic Heyer sparkle."-Woman's Journal
The late Georgette Heyer was a very private woman. Her historical novels have charmed and delighted millions of readers for decades, though she rarely reached out to the public to discuss her works or private life. It is known that she was born in Wimbledon in August 1902, and her first novel, The Black Moth, was published in 1921. Heyer published 56 books over the next 53 years, until her death from lung cancer in 1974. Heyer's large volume of works included Regency romances, mysteries and historical fiction. Known also as the Queen of Regency romance, Heyer was legendary for her research, historical accuracy and her extraordinary plots and characterizations. Her last book, My Lord John, was published posthumously in 1975. She was married to George Ronald Rougier, a mining engineer, and they had one son together, Richard.
ISBN: 9781402210778
ISBN-10: 9781402210778
Publisher: Sourcebooks Casablanca
Publication Date: 05/01/2008 - 12:00am
On Sale: 05/01/2008 - 12:00am
Pages: 299
Language: English
Categories