Disrupt-Her: A Manifesto for the Modern Woman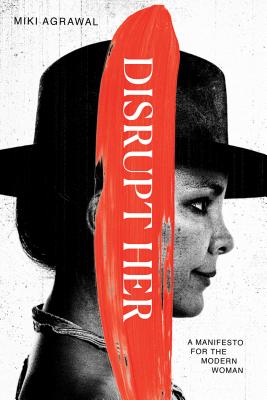 Disrupt-Her: A Manifesto for the Modern Woman
From the co-founder of THINX and hellotushy.com, start-ups collectively valued at more than $150 million, comes DISRUPT-HER, a rallying cry for women to radically question the status quo.

Miki Agrawal has faced patriarchal pushback, fought girl-on-girl hate, ridden the roller coaster of building businesses as a female CEO, and even overcome an attempt to burn her for witchcraft (figuratively).

In order to navigate the complicated--at times maddening--struggles of contemporary femininity, we need an unabashed manifesto for the modern woman that inspires us to move past outrage and take positive steps on the personal, professional, and societal levels.

This manifesto galvanizes us to action in 13 major areas of our lives with as much fire power as possible. These are the credos we live by, the advice we give to friends, the tenets we instill in our companies and peers on a daily basis. Stories of badass female movers and shakers are shared in this book too to give you an extra jolt of "I've got this." It's a whole body F*CK YES to your work, your love, your relationships, and your mission--while doing it all authentically, unapologetically, and with full integrity.
As co-founder and former CEO of THINX and founder of TUSHY and WILD, Miki Agrawal has built companies that generate several tens of millions in revenue and give back to communities, whether helping 10,000 families gain access to clean sanitation or sending 70,000 girls in Uganda to school. Under Miki's leadership, THINX was named one of Fast Company's World's Most Innovative Companies of 2017 and one of Time magazine's 25 Best New Inventions of 2015.
Miki is also the author of the New York Times bestseller Do Cool Sh*t; an identical twin and Irish triplet; the daughter of a Japanese mom and an Indian dad; an OG French-Canadian; a Wall Street dropout; a former professional soccer player; a Cornell graduate; and a proud new mama.