Spy Mom: The Adventures of Sally Sin, Two-Book Set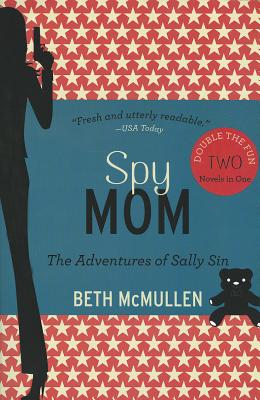 Spy Mom: The Adventures of Sally Sin, Two-Book Set
Fall in Love with Sally Sin
One Unforgettable Heroine
2 X the Adventure Meet Sally Sin. Wife. Mother. Retired Spy. Or so she thinks. After nine years with the USAWMD (United States Agency for Weapons of Mass Destruction)--where she desperately tried to stay one step ahead of her dashing nemesis, Ian Blackford--Sally has become Lucy Hamilton, stay-at-home mom to Theo and wife to adoring husband, Will, who knows nothing of her covert past. But now, instead of chasing bad guys through perilous jungles, she builds giant Lego towers, reads Green Eggs and Ham, and crafts exceptional forts from couch cushions and blankets. Just when she's starting to settle into retirement, Sally's old Agency boss, Simon Still, shows up to recruit her for one more job, involving the illegal arms dealer, Blackford, who is on the move again. Original Sin features Sally's great chase to thwart Blackford, who, conveniently, no one besides her seems to be able to stop. But can she make it to preschool pickup, get dinner on the table, and foil Blackford's nefarious plot? And just when you think the thrills are over, you'll be ready To Sin Again. When the Agency Director is taken hostage, Sally is once again called into action. A rescue operation? Easy. That is, until Sally learns of a connection between the kidnapping and her own mysterious childhood, which complicates everything, even Theo's kindergarten applications. Being a mom is hard enough, without having to save the world. Funny, fast-paced, and compulsively readable, Spy Mom offers two action-packed adventures for mothers and spies, and anyone who has ever dreamed about being either.
Beth McMullen graduated from Boston University with a degree in English Literature. After landing a gig with Reader's Digest, she eventually realized she'd rather write books than condense them. She relocated to San Francisco, California and worked in Silicon Valley to pay the bills, trying to do as much writing and traveling as possible. Finally, after getting married, she and her husband decided to take one year and see as much of the world as they could before they ran out of money. It's a big world. Beth currently divides her time between writing and taking care of her two children, Max, 5, and Katie, 3. She holds an MLS from Long Island University and lives with her husband and children in Davis, California.
ISBN: 9781401312701
ISBN-10: 9781401312701
Publisher: Hachette Books
Publication Date: 06/12/2012 - 12:00am
On Sale: 06/12/2012 - 12:00am
Pages: 624
Language: English
Categories
Fiction / Thrillers / Espionage