Dog Man: Brawl of the Wild: Limited Edition (Dog Man #6)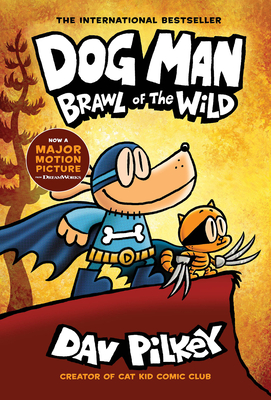 Dog Man: Brawl of the Wild: Limited Edition (Dog Man #6)
Pre-Order (Not Yet Available)
The sixth Dog Man graphic novel from worldwide bestselling author and artist Dav Pilkey, now with a limited edition foil cover!
Is Dog Man bad to the bone? The canine cop is sent to the pound for a crime he didn't commit! While his pals work to prove his innocence, Dog Man struggles to find his place among dogs and people. Being a part of both worlds, will he ever fully fit in with one?

Dav Pilkey's wildly popular Dog Man series appeals to readers of all ages and explores universally positive themes, including empathy, kindness, persistence, and the importance of being true to one's self.
DAV PILKEY is the creator of many acclaimed children's books, including Dogzilla, Kat Kong, god bless the gargoyles, and the bestselling Captain Underpants series. His book The Paperboy received a Caldecott Honor. He lives in the Pacific Northwest. www.pilkey.com
DAV PILKEY is the creator of many acclaimed children's books, including Dogzilla, Kat Kong, god bless the gargoyles, and the bestselling Captain Underpants series. His book The Paperboy received a Caldecott Honor. He lives in the Pacific Northwest. www.pilkey.com