Or What You Will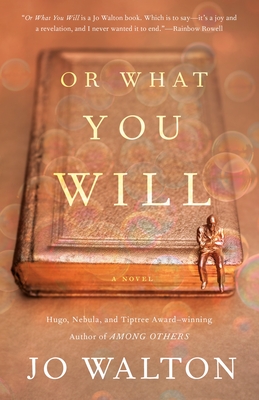 Or What You Will
Out of Stock In Store (Click to Order)
Or What You Will is an utterly original novel about how stories are brought forth from Hugo, Nebula, and World Fantasy Award-winning author Jo Walton.

He has been too many things to count. He has been a dragon with a boy on his back. He has been a scholar, a warrior, a lover, and a thief. He has been dream and dreamer. He has been a god.

But "he" is in fact nothing more than a spark of idea, a character in the mind of Sylvia Harrison, 73, award-winning author of thirty novels over forty years. He has played a part in most of those novels, and in the recesses of her mind, Sylvia has conversed with him for years.

But Sylvia won't live forever, any more than any human does. And he's trapped inside her cave of bone, her hollow of skull. When she dies, so will he.

Now Sylvia is starting a new novel, a fantasy for adult readers, set in Thalia, the Florence-resembling imaginary city that was the setting for a successful YA trilogy she published decades before. Of course he's got a part in it. But he also has a notion. He thinks he knows how he and Sylvia can step off the wheel of mortality altogether. All he has to do is convince her.
Jo Walton won the John W. Campbell Award for Best New Writer on publication of her debut novel The King's Peace. She won the World Fantasy Award in 2004 for Tooth and Claw, and in 2012, the Hugo and Nebula Awards for Among Others. In addition to writing SF and fantasy, she has also designed role-playing games and published poetry. Her song "The Lurkers Support Me In Email" has been quoted innumerable times in online discussions all over the world, frequently without attribution. A native of Wales, she lives in Montreal.
ISBN: 9781250308993
ISBN-10: 9781250308993
Publisher: Tor Books
Publication Date: 07/07/2020 - 12:00am
On Sale: 07/07/2020 - 12:00am
Pages: 320
Categories