Supernova (Renegades #3)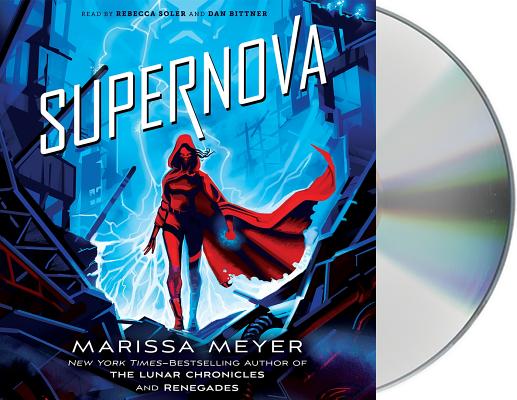 Supernova (Renegades #3)
Unavailable
"Narrators Rebecca Soler and Dan Bittner return for the final installment of Meyer's superhero trilogy. Soler and Bittner are both good at emotional swings, which makes them the perfect dynamic duo for this audiobook." — AudioFile Magazine
All's fair in love and anarchy...
Supernova, the epic conclusion to New York Times bestselling author Marissa Meyer's thrilling Renegades Trilogy finds Nova and Adrian struggling to keep their secret identities concealed while the battle rages on between their alter egos, their allies, and their greatest fears come to life. Secrets, lies, and betrayals are revealed as anarchy once again threatens to reclaim Gatlon City.
Marissa Meyer's first book in the Lunar Chronicles, Cinder, debuted on the New York Times bestseller list. Marissa lives in Tacoma, Washington, with her husband and their three cats.

Dan Bittner has narrated dozens of audio books and has starred on stage and on the screen, in movies such as Men in Black, Adventureland, and the Producers: The Movie Musical. He has also appeared onstage as Macbeth Malcolm and Sherlock Holmes in the Edinburgh Fringe Festival. He has narrated popular audio books such as The Eleventh Plague, Hero, and Forever.

Rebecca Soler is a film and voiceover actress who won a 2009 AudioFile Earphones Award for her narration of After by Amy Efaw. Her audiobook credits include work by authors such as Judy Blume, James Patterson and Sarah Dessen. Soler has also narrated the popular young adult series The Lunar Chronicles by Marissa Meyer. Her voice over credits include various video games, like Star Wars: The Old Republic and Red Dead Redemption and television shows such as Pokemon, Yu-Gi-Oh, and Teenage Mutant Ninja Turtles. She lives in New York City.