Wicked Saints: A Novel (Something Dark and Holy #1)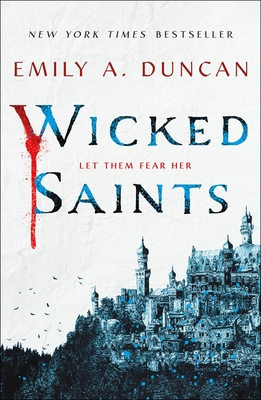 For the Escapist
Wicked Saints: A Novel (Something Dark and Holy #1)
On Our Shelves Now
The instant New York Times bestseller, now with exciting new bonus content from Malachiasz's POV!

"Prepare for a snow-frosted, blood-drenched fairy tale where the monsters steal your heart and love ends up being the nightmare." - Roshani Chokshi, New York Times bestselling author of The Gilded Wolves and The Star-Touched Queen

A girl who can speak to gods must save her people without destroying herself.

A prince in danger must decide who to trust.

A boy with a monstrous secret waits in the wings.

Together, they must assassinate the king and stop the war.

In a centuries-long war where beauty and brutality meet, their three paths entwine in a shadowy world of spilled blood and mysterious saints, where a forbidden romance threatens to tip the scales between dark and light. Wicked Saints is the thrilling start to Emily A. Duncan's devastatingly Gothic Something Dark and Holy trilogy.

"This book destroyed me and I adored it."- Stephanie Garber, New York Times bestselling author of Caraval

EMILY A. DUNCAN is the New York Times bestselling author of Wicked Saints and Ruthless Gods. They work as a youth services librarian and received a Master's degree in library science from Kent State University, which mostly taught them how to find obscure Slavic folklore texts through interlibrary loan systems. When not reading or writing, they enjoy playing copious amounts of video games and dungeons and dragons. They live in Ohio.
by Kiersten
Fri, 05/29/2020 - 11:04am
WICKED SAINTS is a dark, tense, and romantic fantasy inspired by Slavic folklore, heavy metal music, and all things goth. Blood magic and holy power collide in a centuries-old war between two nations on the brink of collapse. In order to assassinate a mad king and end the violence, a peasant girl who hears the voices of the gods reluctantly joins forces with a monstrous boy drowning in secrets. Helping him is blasphemy. Loving him is something worse...
WICKED SAINTS brought me out of my YA fantasy slump and threw me headfirst into a new literary obsession. Beyond the delicious enemies-to-lovers romance and the cosmic horror, this is a book that came here to have fun, and the fun is infectious. I have T-shirts. I made T-shirts. You want to have a little of that fannish fervor in your life, too, trust me.