Sadie: A Novel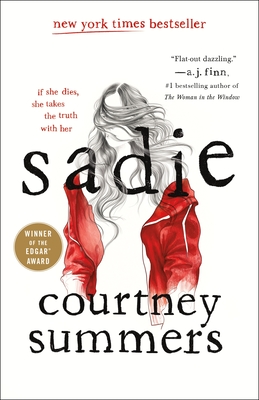 Sadie: A Novel
Out of Stock In Store (Click to Order)
"Sadie: a novel for readers of any age, and a character as indelible as a scar. Flat-out dazzling." —A. J. Finn, #1 New York Times bestselling author of The Woman in the Window

A New York Times bestseller!
An Edgar Award Winner!

Appearing on over 30 Best Book of 2018 lists including The Boston Globe, Bustle, Buzzfeed, Globe and Mail, Good Morning America, NPR, Publishers Weekly, and more!
A YALSA Top 10 Quick Pick

4 Starred Reviews from Kirkus, School Library Journal, Booklist, Publishers Weekly!

"Sadie: a novel for readers of any age, and a character as indelible as a scar. Flat-out dazzling." —A. J. Finn, #1 New York Times bestselling author of The Woman in the Window

"Sadie is an electrifying, high-stakes road trip. Clear your schedule. You're not going anywhere until you've reached the end." —Stephanie Perkins, New York Times bestselling author of There's Someone Inside Your House and Anna and the French Kiss

"A haunting, gut-wrenching, and relentlessly compelling read." —Veronica Roth, #1 New York Times bestselling author of Carve the Mark and the Divergent series

A missing girl on a journey of revenge. A Serial—like podcast following the clues she's left behind. And an ending you won't be able to stop talking about.

"Today, WNRK is launching the first episode of our new serialized podcast, The Girls, created and hosted by West McCray."

When popular radio personality West McCray receives a desperate phone call from a stranger imploring him to find nineteen-year-old runaway Sadie Hunter, he's not convinced there's a story there; girls go missing all the time. But when it's revealed that Sadie fled home after the brutal murder of her little sister, Mattie, West travels to the small town of Cold Creek, Colorado, to uncover what happened.

Sadie has no idea that her journey to avenge her sister will soon become the subject of a blockbuster podcast. Armed with a switchblade, Sadie follows meager clues hoping they'll lead to the man who took Mattie's life, because she's determined to make him pay with his own. But as West traces her path to the darkest, most dangerous corners of big cities and small towns, a deeply unsettling mystery begins to unfold—one that's bigger than them both. Can he find Sadie before it's too late?

Alternating between Sadie's unflinching voice as she hunts the killer and the podcast transcripts tracking the clues she's left behind, Sadie is a breathless thriller about the lengths we go to protect the ones we love and the high price we pay when we can't. It will haunt you long after you reach the final page.
Courtney Summers is the bestselling and critically acclaimed author of several novels for young adults, including Cracked Up to Be, All the Rage and Sadie. Her work has been released to multiple starred reviews, received numerous awards and honors--including the Edgar Award, John Spray Mystery Award, Cybils Award and Odyssey Award--and has been recognized by many library, 'Best Of' and Readers' Choice lists. She lives and writes in Canada.
by Kiersten
Thu, 05/28/2020 - 1:16pm
Sadie knows exactly who killed her little sister, and she's going to make him pay. A year later, a true-crime podcast host hears the story of Sadie's disappearance, and he launches his own investigation into a murder that everyone else seems to want to forget. This gripping, heart-wrenching novel about sisterhood, survival, and revenge is so much more than a thriller. The award-winning full-cast audiobook is available on Libro.FM.
Content Note: This novel includes discussions of difficult topics such as sexual assault, physical abuse, alcoholism, and the death of a child.
ISBN: 9781250105714
ISBN-10: 9781250105714
Publisher: Wednesday Books
Publication Date: 09/04/2018 - 12:00am
On Sale: 09/04/2018 - 12:00am
Pages: 320
Language: English
Categories
Young Adult Fiction / Thrillers & Suspense