Fear Street Super Thriller: Party Games & Don't Stay Up Late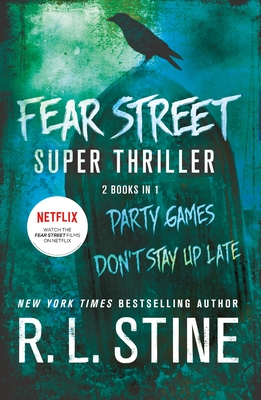 Fear Street Super Thriller: Party Games & Don't Stay Up Late
Out of Stock In Store
Watch the movies, read the books! The Fear Street movies are coming to Netflix this summer!

In one volume, R.L. Stine presents two bone-chilling stories of teens in terror in his worldwide bestselling Fear Street series, which has sold 80 million copies around the world.

In Party Games, Rachel is thrilled to be invited to Brendan Fear's exclusive birthday party on Fear Island. When Rachel arrives at the island, a scavenger hunt turns up some horrifying surprises. Soon, Rachel has to fight to survive the deadliest game of all -- the game of murder.

In Don't Stay Up Late, Lisa is plagued by nightmares and hallucinations after a horrible accident that landed her in the hospital for weeks. Lisa is happy to take a babysitting job to get her mind off of the terrible events of the past. But then her friends begin dying one by one. Are Lisa's nightmares coming true?

With double the fear and double the fun, this Fear Street Super Chiller will appeal to fans of the original Fear Street series as well as the countless young adults who have grown up reading R.L. Stine.
Before R. L. Stine made his name as the Stephen King of children's literature, he was the author of humorous fiction and an editor of Bananas magazine. He is the bestselling author of more than three hundred books, including the phenomenally bestselling Goosebumps series. It's the First Day of School . . . Forever! was Stine's first book with Feiwel and Friends.
ISBN: 9781250076939
ISBN-10: 9781250076939
Publisher: St. Martin's Griffin
Publication Date: 08/04/2015 - 12:00am
On Sale: 08/04/2015 - 12:00am
Pages: 592
Language: English
Categories