The Late Scholar: Peter Wimsey and Harriet Vane Investigate (Lord Peter Wimsey/Harriet Vane #4)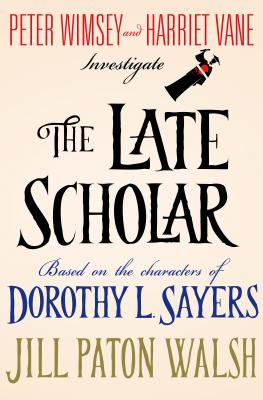 The Late Scholar: Peter Wimsey and Harriet Vane Investigate (Lord Peter Wimsey/Harriet Vane #4)
When a dispute among the Fellows of St. Severin's College, Oxford University, reaches a stalemate, Lord Peter Wimsey discovers that as the Duke of Denver he is "the Visitor"—charged with the task of resolving the issue. It is time for Lord Peter and his detective novelist wife, Harriet, to revisit their beloved Oxford, where their long and literate courtship finally culminated in their engagement and marriage.
At first, the dispute seems a simple difference of opinion about a valuable manuscript that some of the Fellows regard as nothing but an insurance liability, which should be sold to finance a speculative purchase of land. The voting is evenly balanced. The Warden would normally cast the deciding vote, but he has disappeared. And when several of the Fellows unexpectedly die as well, Lord Peter and Harriet set off on an investigation to uncover what is really going on at St. Severin's.
With this return in The Late Scholar to the Oxford of Gaudy Night, which many readers regard as their favorite of Sayers's original series, Jill Paton Walsh at once revives the wit and brilliant plotting of the Golden Age of detective fiction.
Jill Paton Walsh is the author of books for adults, young adults and children. Her novel Knowledge of Angels was short-listed for the Booker Prize. Her crime novels and mystery novels include The Attenbury Emeralds, A Presumption of Death, The Wyndham Case and A Piece of Justice, which was shortlisted for the Crime Writers' Association Gold Dagger Award. With Dorothy L. Sayers, she was co-author of Thrones, Dominations. Her novels for children and young adults include The Green Book and A Parcel of Patterns. She lives in Cambridge, England.

Dorothy L. Sayers, the greatest of the golden age detective novelists, was born in Oxford in 1893. Her aristocratic detective, Lord Peter Wimsey, became one of the most popular fictional heroes of the twentieth century. She devoted the last 20 years of her life to playwriting, Christian scholarship, and a new translation of Dante. She died in 1957.
ISBN: 9781250032799
ISBN-10: 9781250032799
Publisher: Minotaur Books
Publication Date: 06/17/2014 - 12:00am
On Sale: 06/17/2014 - 12:00am
Pages: 368
Language: English
Categories