China's Market Communism: Challenges, Dilemmas, Solutions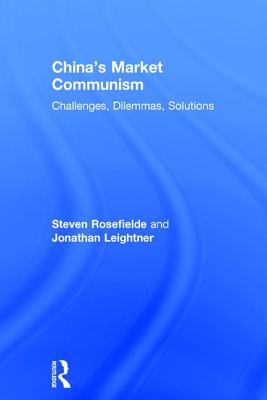 China's Market Communism: Challenges, Dilemmas, Solutions
Unavailable
This item may not be available to order. Please call 617-566-6660 for more information.
China's Market Communism guides readers step by step up the ladder of China's reforms and transformational possibilities to a full understanding of Beijing's communist and post-communist options by investigating the lessons that Xi can learn from Mao, Adam Smith and inclusive economic theory. The book sharply distinguishes what can be immediately accomplished from the road that must be traversed to better futures.
Steven Rosefielde is Professor of Economics at the University of North Carolina, Chapel Hill and a member of the Russian Academy of Natural Sciences. One of the world's leading experts in Soviet/Russian Studies, Comparative Economic Systems and International Security, he is the author of numerous books including Asian Economic Systems (2013). Jonathan Leightner teaches at Augusta University in the United States and Chulalongkorn University in Thailand. Johns Hopkins University hired him to teach at the Hopkins-Nanjing Center in China for 2008-2010. His publications include articles on China's trade, exchange rates, foreign reserves, fiscal policy and land rights.
ISBN: 9781138125193
ISBN-10: 9781138125193
Publisher: Routledge
Publication Date: 09/21/2017 - 12:00am
On Sale: 09/26/2017 - 12:00am
Pages: 132
Language: English
Categories
Development - Economic Development