Alachua Ambush: Bloody Battles of the 2nd Seminole War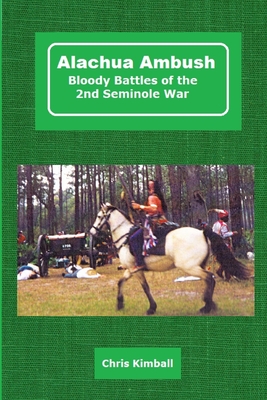 Alachua Ambush: Bloody Battles of the 2nd Seminole War
Out of Stock In Store (Click to Order)
This item may not be available to order. Please call 617-566-6660 for more information.
Never before published letters and accounts of Florida's Second Seminole War bring to life the bloodiest battles and events. For a long time, the mistaken belief was that the last battle was on Lake Okeechobee on Christmas Day 1837. How wrong that is
Captain Gabriel Rains tests land mines on the Seminole warriors near Fort King, and they hit back with a bloody battle where he is nearly killed.
James Sanderson was a veteran of the War of 1812. An enlisted man promoted to lieutenant with recommendations of all the officers in the regiment. His experience proved no match against a deadly ambush.
Mrs. Montgomery was 19 years old and daughter of the richest businessman in Cincinnati. She took a Sunday ride out of Fort Micanopy to her death that was reported around the country.
Miccosukee war leader Coacoochee has an epic victory party on a plantation near St. Augustine. Army Dragoons attempt to track him but run into a dead-end in the swamp.
Slaves George and Joe are put on trial in St. Augustine for supplying gunpowder to the Indians.
The Seminole matriarch "Old Betsy" bravely negotiates with the soldiers.
All these stories are straight from letters and army reports in 1840, and many have never been published.