The Encyclopedia of Psychoactive Plants: Ethnopharmacology and Its Applications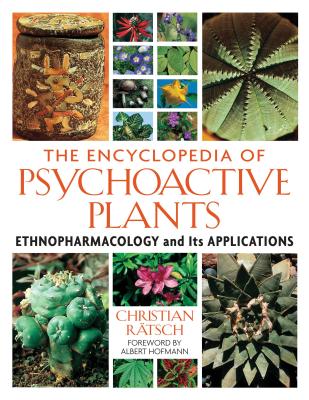 The Encyclopedia of Psychoactive Plants: Ethnopharmacology and Its Applications
Out of Stock In Store (Available to Order)
The most comprehensive guide to the botany, history, distribution, and cultivation of all known psychoactive plants

• Examines 414 psychoactive plants and related substances

• Explores how using psychoactive plants in a culturally sanctioned context can produce important insights into the nature of reality

• Contains 797 color photographs and 645 black-and-white illustrations

In the traditions of every culture, plants have been highly valued for their nourishing, healing, and transformative properties. The most powerful plants--those known to transport the human mind into other dimensions of consciousness--have traditionally been regarded as sacred. In The Encyclopedia of Psychoactive Plants Christian Rätsch details the botany, history, distribution, cultivation, and preparation and dosage of more than 400 psychoactive plants. He discusses their ritual and medicinal usage, cultural artifacts made from these plants, and works of art that either represent or have been inspired by them. The author begins with 168 of the most well-known psychoactives--such as cannabis, datura, and papaver--then presents 133 lesser known substances as well as additional plants known as "legal highs," plants known only from mythological contexts and literature, and plant products that include substances such as ayahuasca, incense, and soma. The text is lavishly illustrated with 797 color photographs--many of which are from the author's extensive fieldwork around the world--showing the people, ceremonies, and art related to the ritual use of the world's sacred psychoactives.
Christian Rätsch, Ph.D., is a world-renowned anthropologist and ethnopharmacologist who specializes in the shamanic uses of plants. He is the author of Marijuana Medicine and coauthor of Plants of the Gods, Shamanism and Tantra in the Himalayas, Witchcraft Medicine, and The Encyclopedia of Psychoactive Plants. He lives in Hamburg, Germany, and lectures around the world.

Albert Hofmann (1906-2008), the father of LSD, was a world-renowned scientist, member of the Nobel Prize Committee, Fellow of the World Academy of Sciences, and member of the International Society of Plant Research and of the American Society of Pharmacognosy. He was a leader in pharmaceutical-chemical research and the author of several books, including LSD: My Problem Child.
ISBN: 9780892819782
ISBN-10: 9780892819782
Publisher: Park Street Press
Publication Date: 04/25/2005 - 12:00am
On Sale: 04/25/2005 - 12:00am
Pages: 944
Language: English
Categories