Betsy Ross (I Like to Read)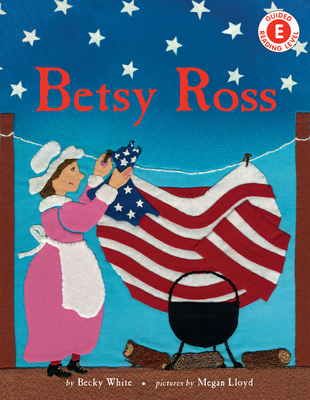 Betsy Ross (I Like to Read)
Rip, rip, stitch. Piece by piece, Betsy Ross creates the first American flag. This Level E book is perfect for early readers.

Simple, rhythmic text describes the creation of the flag--thirteen stripes and thirteen five-pointed stars. Easy enough for the earliest readers, this is a fun look at a beloved story. With clever rhymes and charming art, Betsy Ross is a celebration of American history and craft work.

Illustrator Megan Lloyd followed Betsy's example--ripping and dyeing and stitching to create cozy fabric scenes portraying the creation of this historic symbol. Hand-dyed fabric and careful embroidery makes this unique take on Old Glory stand out.

The award-winning I Like to Read® series focuses on guided reading levels A through G, based upon Fountas and Pinnell standards.  Acclaimed author-illustrators--including winners of Caldecott, Theodor Seuss Geisel, and Coretta Scott King honors—create original, high quality illustrations that support comprehension of simple text and are fun for kids to read with parents, teachers, or on their own!
 
Level E stories feature a distinct beginning, middle, and end, with kid-friendly illustrations offering clues for more challenging sentences.  Varied punctuation and simple contractions may be included. Level E books are suitable for early first graders. When Level E is mastered, follow up with Level F.
Becky White taught elementary school for five years before creating more than three hundred educational books. She lives with her husband in a windmill home in California, where she enjoys gardening and making books and movies for her grandchildren.

Megan Lloyd has illustrated many fine books for children, including "Too Many Pumpkins" by Linda White and "The Gingerbread Man" by Eric A. Kimmel. She lives on a farm in central Pennsylvania with her husband.