Catalog of Unabashed Gratitude (Pitt Poetry Series)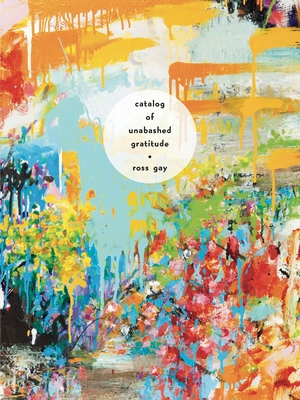 Catalog of Unabashed Gratitude (Pitt Poetry Series)
On Our Shelves Now
Winner, 2015 National Book Critics Circle Award, poetry category
Winner, 2016 Kingsley Tufts Poetry Prize
Finalist, 2015 National Book Award, poetry category
Finalist, 2015 NAACP Image Awards, poetry category

Catalog of Unabashed Gratitude is a sustained meditation on that which goes away—loved ones, the seasons, the earth as we know it—that tries to find solace in the processes of the garden and the orchard. That is, this is a book that studies the wisdom of the garden and orchard, those places where all—death, sorrow, loss—is converted into what might, with patience, nourish us.
Ross Gay is the author of two previous collections, Against Which and Bringing the Shovel Down. His poems have appeared in American Poetry Review, Orion, the Sun, and elsewhere.  He is an associate professor of poetry at Indiana University and teaches in Drew University's low-residency MFA program in poetry. He also serves on the board of the Bloomington Community Orchard.
by Bradley
Wed, 05/27/2020 - 12:00pm
Once, a few years ago, a friend of mine was having a really miserable few days. I called them on the phone one night, after a particularly rough turn of events, and read them the title poem from this book: a long piece that is entirely dedicated to cataloging things that the poet is grateful for, ranging from his garden to the memory of friends now passed. I come back to this book every time I feel like the world is overwhelmingly sad, because its founded on a gratitude that doesn't ignore sadness or grief, but embraces them as parts of a whole network of feelings that make up a person.
ISBN: 9780822963318
ISBN-10: 9780822963318
Publisher: University of Pittsburgh Press
Publication Date: 01/07/2015 - 12:00am
On Sale: 01/07/2015 - 12:00am
Pages: 112
Language: English
Categories