Murder at Broad River Bridge: The Slaying of Lemuel Penn by the Ku Klux Klan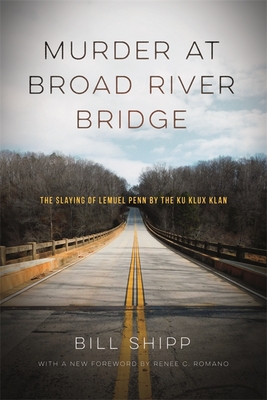 Murder at Broad River Bridge: The Slaying of Lemuel Penn by the Ku Klux Klan
Out of Stock In Store (Click to Order)
First published in 1981, Murder at the Broad River Bridge recounts the stunning details of the murder of Lieutenant Colonel Lemuel Penn by the Ku Klux Klan on a back-country Georgia road in 1964, nine days after the passage of the Civil Rights Act. Longtime Atlanta Constitution reporter Bill Shipp gives us, with shattering power, the true story of how a good, innocent, "uninvolved" man was killed during the Civil Rights turbulence of the mid-1960s. Penn was a decorated veteran of World War II, a United States Army Reserve officer, and an African American, killed by racist, white vigilantes as he was driving home to Washington, D.C. from Fort Benning, Georgia.
Shipp recounts the details of the blind and lawless force that took Penn's life and the sorry mask of protective patriotism it hid behind. To read
Murder at Broad River Bridge
is to know with deep shock that it could be dated today, tonight, tomorrow. It is a vastly moving documentary drama.
BILL SHIPP is an award-winning author, reporter, editor, and columnist who has covered southern politics and government for more than five decades. He is a member of the Georgia Writers Hall of Fame and the Atlanta Press Club Hall of Fame.
ISBN: 9780820351612
ISBN-10: 9780820351612
Publisher: University of Georgia Press
Publication Date: 09/15/2017 - 12:00am
On Sale: 09/15/2017 - 12:00am
Pages: 112
Language: English
Categories