The Motherhood Business: Consumption, Communication, and Privilege (Albma Rhetoric Cult & Soc Crit)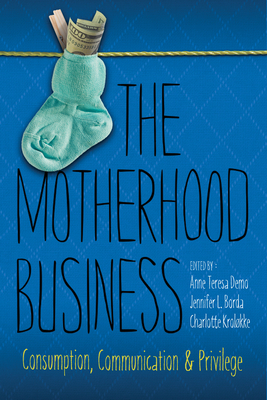 The Motherhood Business: Consumption, Communication, and Privilege (Albma Rhetoric Cult & Soc Crit)
Editor Anne Teresa Demo ,
Jennifer L. Borda ,
Dr. Charlotte H. Kroløkke ,
Contributions by Jennifer L. Borda ,
Shira Chess ,
Anne Teresa Demo ,
Kara N. Dillard ,
K. Animashaun Ducre ,
Lisa A. Flores ,
Cynthia Gordon ,
Christine Harold ,
Sara E. Hayden ,
Dr. Charlotte H. Kroløkke ,
Karen Hvidtfeldt Madsen
Unavailable
The Motherhood Business is a piercing collection of ten original essays that reveal the rhetoric of the motherhood industry. Focusing on the consumer life of mothers and the emerging entrepreneurship associated with motherhood, the collection considers how different forms of privilege (class, race, and nationality) inform discourses about mothering, consumption, mobility, and leisure.
 
The Motherhood Business follows the harried mother's path into the anxious maelstrom of intelligent toys, healthy foods and meals, and educational choices. It also traces how some enterprising mothers leverage cultural capital and rhetorical vision to create thriving baby- and child-based businesses of their own, as evidenced by the rise of mommy bloggers and "mompreneurs"over the last decade.
 
Starting with the rapidly expanding global fertility market, The Motherhood Business explores the intersection of motherhood, consumption, and privilege in the context of fertility tourism, international adoption, and transnational surrogacy. The synergy between motherhood and the marketplace demonstrated across the essays affirms the stronghold of "intensive mothering ideology" in decisions over what mothers buy and how they brand their businesses even as that ideology evolves. Across diverse contexts, the volume also identifies how different forms or privilege shape how mothers construct their identities through their consumption and entrepreneurship.
 
Although social observers have long commented on the link between motherhood and consumerism, little has been written within the field of rhetoric. Penetrating and interdisciplinary, The Motherhood Business illuminates how consumer culture not only shapes contemporary motherhood but also changes in response to mothers who constitute a driving force of the economy.

Anne Teresa Demo is an assistant professor in the Department of Communication Arts and Sciences at Pennsylvania State University. She is the coeditor of Rhetoric, Remembrance, and Visual Form: Sighting Memory. Jennifer L. Borda is an associate professor of communication at the University of New Hampshire. She is the author of Women Labor Activists in the Movies: Nine Depictions of Workplace Organizers, 1954–2005. Charlotte Kroløkke is an associate professor at the University of Southern Denmark. She currently heads the research project titled (Trans)Formations of Kinship: Travelling in Search of Relatedness.