Alabama Governors: A Political History of the State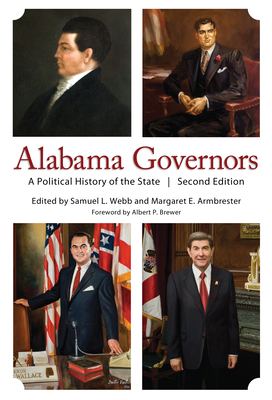 Alabama Governors: A Political History of the State
Editor Samuel L. Webb ,
Professor Margaret E. Armbrester ,
Foreword by Albert P. Brewer ,
Contributions by Professor Margaret E. Armbrester ,
Samuel L. Webb ,
David E. Alsobrook ,
Leah Rawls Atkins ,
Hugh C. Bailey ,
Jonathan Bass ,
Michael Breedlove ,
III Carter, Kit Carson ,
Ph.D. Doss, Dr. Harriet E. Amos ,
Daniel Dupre ,
Glenn T. Eskew ,
Glenn Feldman ,
Michael W. Fitzgerald ,
Wayne Flynt ,
Carl Grafton ,
Gordon E. Harvey ,
III Jackson , Harvey H. ,
John Mayfield ,
Mary Jane McDaniel ,
Henry Mel McKiven ,
Anne Permaloff ,
Michael Perman ,
Jr. PhD Pruitt Jr., Dr. Paul M. ,
Marlene Hunt Rikard ,
William Warren Rogers ,
Jr Rogers, William Warren ,
Randy B. Rosenburg ,
William H. Stewart ,
III Thornton , J. Mills ,
Robert David Ward ,
Sarah Woolfolk Wiggins ,
Lee Allen ,
D. Alan Harris
Unavailable
An entirely revised and updated edition of the best-selling 2001 original
 
This collection of biographical essays, written by thirty-four noted historians and political scientists, chronicles the times, careers, challenges, leadership, and legacies of the fifty-seven men and one woman who have served as the state's highest elected official. The book is organized chronologically into six sections that cover Alabama's years as a US territory and its early statehood, the 1840s through the Civil War and Reconstruction, the late nineteenth-century Bourbon era, twentieth-century progressive and wartime governors, the Civil Rights era and George Wallace's period of influence, and recent chief executives in the post-Wallace era.
 
The political careers of these fifty-eight individuals reflect the story of Alabama itself. Taken together, these essays provide a unified history of the state, with its recurring themes of race, federal-state relations, tensions between north and south Alabama, economic development, taxation, and education.
 
Alabama Governors expertly delineates the decisions and challenges of the chief executives, their policy initiatives, their accomplishments and failures, and the lasting impact of their terms. The book also includes the true and sometimes scandalous anecdotes that pepper Alabama's storied history. Several of the state's early governors fought duels; one killed his wife's lover. A Reconstruction era-governor barricaded himself in his office and refused to give it up when voters failed to reelect him. A twentieth-century governor, an alumnus of Yale, served as an officer in the Ku Klux Klan.
 
This entirely updated and revised edition includes enlarged and enhanced images of each governor. Published as Alabama prepares for its sixty-fourth gubernatorial election, Alabama Governors is certain to become a valuable resource for teachers, students, librarians, journalists, and anyone interested in the colorful history of Alabama politics.
 
Samuel L. Webb is associate professor emeritus of history at the University of Alabama at Birmingham and author of Two-Party Politics in the One-Party South.

Margaret E. Armbrester is retired assistant professor of history at the University of Alabama at Birmingham and author of Samuel Ullman and "Youth": The Life, the Legacy
ISBN: 9780817318437
ISBN-10: 9780817318437
Publisher: University Alabama Press
Publication Date: 08/31/2014 - 12:00am
On Sale: 08/31/2014 - 12:00am
Pages: 384
Language: English
Categories
History / United States / State & Local / South (AL, AR, FL, GA, KY, LA, MS, NC, SC, TN, VA, WV)