Playing the Ponies and Other Medical Mysteries Solved (Hardcover)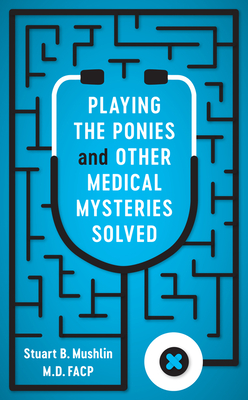 Not Available
Special Order (unlikely to be available)
Description
---
With over forty years of experience as a sought after diagnostician, Dr. Stuart Mushlin has cracked his share of medical mysteries, ones in which there are bigger gambles than playing the ponies at the track. Some of his patients show up with puzzling symptoms, calling for savvy medical detective work. Others seem to present cut-and-dry cases, but they turn out to be suffering from rare or serious conditions.
 
In Playing the Ponies and Other Medical Mysteries Solved, Dr. Mushlin shares some of the most intriguing cases he has encountered, revealing the twists and turns of each patient's diagnosis and treatment process. Along the way, he imparts the secrets to his success as a medical detective—not specialized high-tech equipment, but time-honored techniques like closely observing, touching, and listening to patients. He also candidly describes cases where he got things wrong, providing readers with honest insights into both the joys and dilemmas of his job.   
 
Dr. Mushlin does not just treat diseases; he treats people. And this is not just a book about the ailments he diagnosed; it is also about the scared, uncertain, ailing individuals he helped in the process. Filled with real-life medical stories you'll have to read to believe, Playing the Ponies is both a suspenseful page-turner and a heartfelt reflection on a life spent caring for patients. 
About the Author
---
STUART B. MUSHLIN, MD, FACP has been a practicing clinician for forty years. He has been voted a "Best Doctor in America" for over twenty years, and has been an assistant program director in the Brigham and Women's Medical Residency program for the past seventeen years. His diagnostic acumen has been recognized by his title as The Master Clinician in Internal Medicine and Primary Care. He is an assistant professor of medicine at Harvard Medical School, in Boston, Massachusetts.
 
Praise For…
---
"Puzzling patients, detective work, and a dedicated doctor nicely packaged in one small, fascinating volume."
— Booklist
"Captivating vignettes from a master clinician, illuminating the profound intellectual and emotional dimensions of medicine, it's demands and its joys. Medical professionals and the public at large will delight in these tales."
— Jerome E. Groopman, M.D.
"This lovely patient-centered memoir combines the best of the medical problem-solving of Berton Roueche with the human warmth and wryly benevolent amusement of James Herriot.  It will be enjoyed by students, residents, and physicians who want to remind themselves of the ideals that brought them to medicine."
— Daniel M. Goodenberger, M.D., MACP
"An articulate, authoritative, and fascinating guided tour through the joys and intricacies of the diagnostic process, therapeutic challenges, and human interactions at the core of medical practice with an articulate, compassionate, and accomplished physician."
— Jeremiah A. Barondess, M.D.
"This book is a fascinating examination of the challenges in the doctor-patient relationship. Dr. Mushlin's caring and holistic approach to patients is inspiring. His moving stories will help readers become wiser patients. I highly recommend it." 
— Alvin F. Poussaint, M.D.
"Stuart Mushlin captures eloquently the essential attributes of the complete physician: empathy, patience and open-mindedness matched to curiosity, scientific inquiry and determination to provide the best care possible. The lessons evoked are timeless and formulate a Hippocratic Oath for our times."
— Joseph B. Martin, M.D., PhD