50 Concepts for a Critical Phenomenology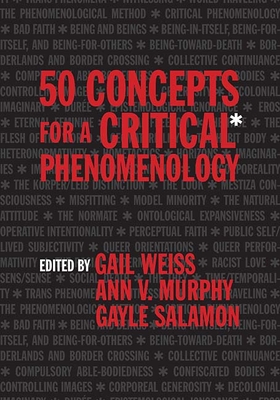 50 Concepts for a Critical Phenomenology
By Gail Weiss ,
Gayle Salamon ,
Ann V. Murphy ,
Contributions by Duane Davis ,
Lisa Guenther ,
Lewis R. Gordon ,
John D. Caputo ,
Kris Sealey ,
Mark Ralkowski ,
Natalie Cisneros ,
Kyle Whyte ,
Robert McRuer ,
George Yancy ,
Patricia Hill Collins ,
Rosalyn Diprose ,
Eduardo Mendieta ,
Alia Al-Saji ,
Charles W. Mills ,
Tasmin Kimoto ,
Debra Bergoffen ,
Shannon M. Mussett ,
Diane Perpich ,
Donald A. Landes ,
Ted Toadvine ,
Helen A. Fielding ,
Megan Burke ,
Mariana Ortega ,
David Morris ,
Moira Gatens ,
Dr. Shiloh Whitney ,
Scott Marratto ,
Jenny Slatman ,
William McBride ,
Elena Ruiz ,
Rosemarie Garland-Thomson ,
Emily S. Lee ,
Lanei M. Rodemeyer ,
Joel Michael Reynolds ,
Shannon Sullivan ,
Jennifer McWeeny ,
Jack Reynolds ,
Linda Martin Alcoff ,
Lauren Guilmette ,
Sarah Hansen ,
Axelle Karera ,
David Haekwon Kim ,
Keith Whitmoyer ,
Perry Zurn ,
Nancy J. Holland ,
Dorthea Olkowski ,
Talia Mae Bettcher ,
Kelly Oliver ,
Andrea Pitts ,
Cynthia Willett
Out of Stock In Store (Click to Order)
Phenomenology, the philosophical method that seeks to uncover the taken-for-granted presuppositions, habits, and norms that structure everyday experience, is increasingly framed by ethical and political concerns. Critical phenomenology foregrounds experiences of marginalization, oppression, and power in order to identify and transform common experiences of injustice that render "the familiar" a site of oppression for many. In Fifty Concepts for a Critical Phenomenology, leading scholars present fresh readings of classic phenomenological topics and introduce newer concepts developed by feminist theorists, critical race theorists, disability theorists, and queer and trans theorists that capture aspects of lived experience that have traditionally been neglected. By centering historically marginalized perspectives, the chapters in this book breathe new life into the phenomenological tradition and reveal its ethical, social, and political promise. This volume will be an invaluable resource for teaching and research in continental philosophy; feminist, gender, and sexuality studies; critical race theory; disability studies; cultural studies; and critical theory more generally.
GAIL WEISS is a professor of philosophy at George Washington University.

ANN V. MURPHY is an associate professor of philosophy at the University of New Mexico.

GAYLE SALAMON is a professor of English and gender and sexuality studies at Princeton University.