Lucky Peach Presents 101 Easy Asian Recipes: The First Cookbook from the Cult Food Magazine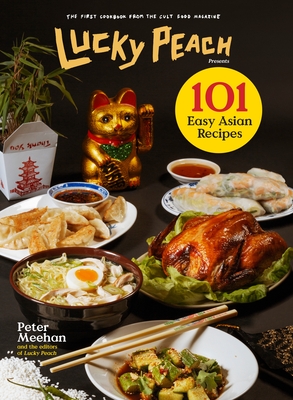 Lucky Peach Presents 101 Easy Asian Recipes: The First Cookbook from the Cult Food Magazine
Unavailable
"Delicious, straightforward recipes ... fill Lucky Peach: 101 Easy Asian Recipes, along with romping commentary that makes the book fun to read as well as to cook from." —Associated Press

Beholden to bold flavors and not strict authenticity, the editors of Lucky Peach present a compendium of 101 easy, Asian recipes that hit the sweet spot between craveworthy and stupid simple and are destined to become favorites. Your friends and lovers will marvel as you show off your culinary worldliness, whipping up meals with fish-sauce-splattered panache and all the soy-soaked, ginger-scalliony goodness you could ever want—all for dinner tonight. You'll never have a reason to order take-out again.
LUCKY PEACH uses food as a filter to tell stories about people, places, traditions, flavors, shared experiences, and cultural identities. Smart, thoughtful writing and influential design have made Lucky Peach's quarterly magazine one of the world's most trusted and fiercely loved culinary resources. In 2015, Lucky Peach expanded its mission with an award-winning website, cookbooks, and live events.

PETER MEEHAN is the editor and cofounder of Lucky Peach. A former columnist for the New York Times, he is also the coauthor of numerous cookbooks including the New York Times bestselling Momofuku and The Frankies Spuntino Kitchen Companion and Cooking Manual. He lives in New York.