An Unnecessary Woman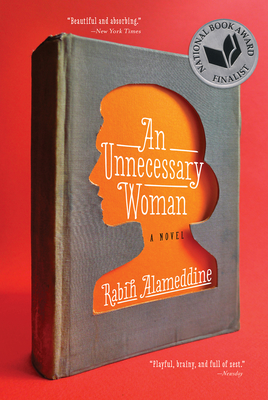 Winner of the California Book Award
Finalist for the National Book Critics Circle Award Finalist for the National Book Award "Beautiful and absorbing."--
New York Times
An Unnecessary Woman
is a breathtaking portrait of one reclusive woman's late-life crisis, which garnered a wave of rave reviews and love letters to Alameddine's cranky yet charming septuagenarian protagonist, Aaliya, a character you "can't help but love" (NPR). Aaliya's insightful musings on literature, philosophy, and art are invaded by memories of the Lebanese Civil War and her volatile past. As she tries to overcome her aging body and spontaneous emotional upwellings, Aaliya is faced with an unthinkable disaster that threatens to shatter the little life she has left. Here, the gifted Rabih Alameddine has given us a nuanced rendering of one woman's life in the Middle East and an enduring ode to literature and its power to define who we are.
"A paean to the transformative power of reading, to the intellectual asylum from one's circumstances found in the life of the mind."--LA Review of Books
" The novel] throbs with energy... Aaliya's] inventive way with words gives unfailing pleasure, no matter how dark the events she describes, how painful the emotions she reveals."--
Washington Post
Rabih Alameddine is the author of the novels Koolaids, I, the Divine, and The Hakawati, and the story collection The Perv.
ISBN: 9780802122148
ISBN-10: 9780802122148
Publisher: Grove Press
Publication Date: 02/04/2014 - 12:00am
On Sale: 02/04/2014 - 12:00am
Pages: 320
Language: English
Categories