Among Others: A Novel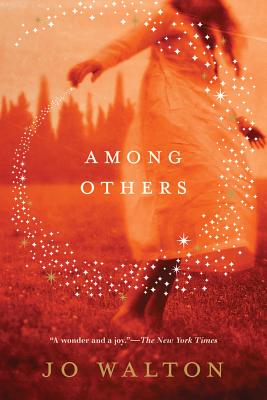 Among Others: A Novel
Unavailable
Winner of the 2011 Nebula Award for Best Novel
Winner of the 2012 Hugo Award for Best Novel
Startling, unusual, and yet irresistably readable, Among Others is at once the compelling story of a young woman struggling to escape a troubled childhood, a brilliant diary of first encounters with the great novels of modern fantasy and SF, and a spellbinding tale of escape from ancient enchantment.
Raised by a half-mad mother who dabbled in magic, Morwenna Phelps found refuge in two worlds. As a child growing up in Wales, she played among the spirits who made their homes in industrial ruins. But her mind found freedom and promise in the science fiction novels that were her closest companions. Then her mother tried to bend the spirits to dark ends, and Mori was forced to confront her in a magical battle that left her crippled--and her twin sister dead.
Fleeing to her father whom she barely knew, Mori was sent to boarding school in England-a place all but devoid of true magic. There, outcast and alone, she tempted fate by doing magic herself, in an attempt to find a circle of like-minded friends. But her magic also drew the attention of her mother, bringing about a reckoning that could no longer be put off...
Combining elements of autobiography with flights of imagination in the manner of novels like Jonathan Lethem's The Fortress of Solitude, this is potentially a breakout book for an author whose genius has already been hailed by peers like Kelly Link, Sarah Weinman, and Ursula K. Le Guin.
One of School Library Journal's Best Adult Books 4 Teens titles of 2011
One of io9's best Science Fiction & Fantasy books of the year 2011
Jo Walton won the John W. Campbell Award for Best New Writer on publication of her debut novel The King's Peace. She won the World Fantasy Award in 2004 for Tooth and Claw, and in 2012, the Hugo and Nebula Awards for Among Others. In addition to writing SF and fantasy, she has also designed role-playing games and published poetry. Her song "The Lurkers Support Me In Email" has been quoted innumerable times in online discussions all over the world, frequently without attribution. A native of Wales, she lives in Montreal.
ISBN: 9780765331724
ISBN-10: 9780765331724
Publisher: Tor Books
Publication Date: 01/03/2012 - 12:00am
On Sale: 01/03/2012 - 12:00am
Pages: 304
Language: English
Categories
Fiction / Fantasy / Contemporary