Hoot Owl, Master of Disguise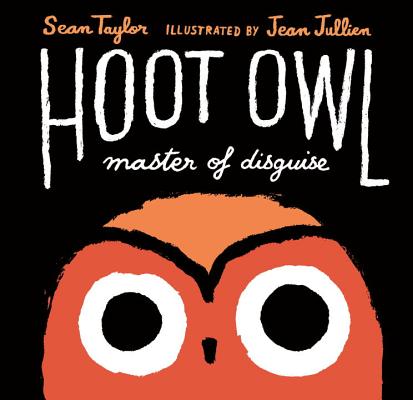 Hoot Owl, Master of Disguise
Watch out! Hoot Owl is hungry in an offbeat story with deadpan humor and bold, striking illustrations.

Hoot Owl is no ordinary owl. He is a master of disguise! In the blackness of night, he's preparing to swoop on his prey before it can realize his dastardly tricks. Look there—a tasty rabbit for him to eat! Hoot Owl readies his costume, disguising himself as . . . a carrot! Then he waits. The rabbit runs off. Never mind! Surely his next juicy target will cower against such a clever and dangerous creature as he! Kids will hoot at Sean Taylor's deliciously tongue-in-beak narration, belied by the brilliantly comical illustrations of Jean Jullien.
Sean Taylor is an author, storyteller, and teacher who has written more than twenty books for young children, including The World Champion of Staying Awake, illustrated by Jimmy Liao. Sean Taylor divides his time between the U.K. and Brazil.

Jean Jullien is a graphic designer who works in a wide range of media, including illustration, photography, video, installation, and clothing. His clients have included the New Yorker, New York magazine, the Guardian, and the Pompidou Center. Originally from France, he now lives in London and regularly exhibits his work in both places.