Bookworm Babies: Read. Converse. Nurture. Impact. (An Easy-To-Follow Handbook Designed by Teachers for the Parents of Infants, Toddlers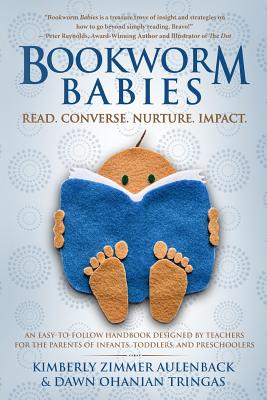 Bookworm Babies: Read. Converse. Nurture. Impact. (An Easy-To-Follow Handbook Designed by Teachers for the Parents of Infants, Toddlers
On Our Shelves Now
This item may not be available to order. Please call 617-566-6660 for more information.
"Activating the full potential of a book requires a bit of practice -- as well as inspiration. Kimberly Zimmer Aulenback and Dawn Ohanian Tringas have created a very special book that gives parents and educators a big dose of both practical ideas and inspiration. Bravo " -- Peter Reynolds, Award-Winning Author and Illustrator
Does your little one ask you to read the same book, again and again? Congratulations, you are raising a Bookworm
Parents today know what educators have known for decades: there are enormous brain benefits associated with simply reading aloud from birth. Parents also know that reading should involve more than opening a book, pronouncing the words, and closing the book, but few have been taught how to truly unlock the unique power within the pages of a children's book.
Written for parents by teachers, Bookworm Babies applies The Bookworm Babies Method -- a nurturing and empowering strategy for enhancing the benefits of book-sharing through conversation starters -- to 20 popular book titles. Parents who seek to maximize the formation of neural connections during reading and bonding time will be guided to move beyond the words on the page and extrapolate embedded concepts related to math, science, language, art, music, and critical thinking.
Exposure to books, coupled with conversing about stories, is the simplest, most effective, and most enjoyable way to develop and stimulate a child's very young mind, while laying the foundation for success later in life. It is never too late, or too early, to begin a book-sharing routine with your little one. The benefits are significant at every age and stage.
Bookworm Babies is poised to become the predominant parenting handbook for reading and conversing about books. Aulenback and Tringas have taught countless parents of infants, toddlers, and preschoolers how to read like a teacher from the time their babies were born. Cultivating these behaviors of conversational literacy from infancy ensures that babies develop a proficiency for reading that will permeate all aspects of growth, development, and life-experience. Simply stated, there is so much more to book-sharing than reading, and children, beginning in infancy, benefit most from this knowledge.
All parents now have access to The Bookworm Babies Method of impactful conversational book-sharing and can nurture the success of their own Bookworms when asked to read a book again and again.
Kimberly Zimmer Aulenback and Dawn Ohanian Tringas are dedicated to supporting accessible and sustainable early childhood learning. Both hold a Master's Degree in Education and have over 25 years of teaching experience between them. As educational consultants, Aulenback and Tringas work with parents and caregivers to teach The Bookworm Babies Method, navigate book-sharing relationships with children, and assist companies who wish to add educational components to their products.
ISBN: 9780692713990
ISBN-10: 9780692713990
Publisher: Seven Years Press
Publication Date: 05/02/2018 - 12:00am
On Sale: 05/02/2018 - 12:00am
Pages: 250
Language: English
Categories