I Never Stopped Smiling: The inspirational autobiography of Kevin Daley, formerly known as Harlem Globetrotter great "Special K"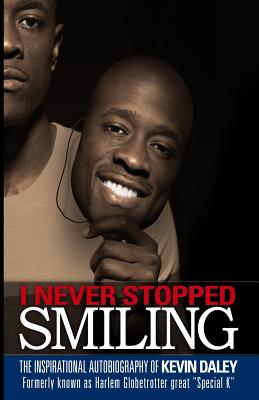 I Never Stopped Smiling: The inspirational autobiography of Kevin Daley, formerly known as Harlem Globetrotter great "Special K"
Out of Stock In Store (Click to Order)
This item may not be available to order. Please call 617-566-6660 for more information.
I Never Stopped Smiling is Kevin's uplifting and inspiring memoir of triumph after tragedy. His story shows that no matter where you begin, you can design a better ending. Through it all, Kevin reveals that no matter what the adversity, finding courage, staying positive, and determining your own destiny are the keys that will give you the power to succeed. This trilogy combines Kevin's autobiography, lessons he learns on his transformational journey and a chapter with his tips for anyone to achieve success in anything in life. His hope is to convince us that no matter what we do for a living somewhere we are inspiring someone and we can all achieve a life of health, happiness, abundance and success. He writes with heartfelt passion, anguish, humor and insight as he describes his roller coaster ride. From his mother's suicide when he was only three, to leaving his beloved country of Panama and moving to the United States when he was twelve, to fighting off L.A. gangs, to incidence of injustice and intolerance, Kevin had every reason to quit. But he held steadfast and executed the plays to succeed. Kevin will keep you turning the pages in this fast-paced, adventure-filled, must-read memoir.
Kevin Daley is a 10-year former captain of the world famous Harlem Globetrotters, where he served as the showman known as "Special K". Throughout his legendary career leading the Globetrotters, he was able to sharpen his already natural ability to engage and motivate audiences of all ages. Mr. Daley has been featured in hundreds of news publications and on TV shows worldwide. You also may have seen him in one of more than a dozen TV commercials, including the favorite of Michael Jordan himself, where Kevin played the double for Jordan in the now top 10 commercial of all time. Kevin has overcome much adversity on his path to success, starting at the tender age of three when he had to cope with his mother's suicide. At the age of twelve, Kevin's father made the live changing decision to move him and his two brothers from Panama to the United States in hopes of a future filled with opportunity for his children. As Mr. Daley continued down his life's path, he was faced with yet more adversity but hurdled each obstacle. He studied successful people and researched the keys of self-motivation to work towards accomplishing personal goals. Kevin is an accomplished speaker with a natural ability to connect through his own personal story, leading others to uncover their own motivating factors within. Kevin has traveled to more than 95 countries and has touched and inspired the lives of many worldwide, and believes in helping others to help themselves. As a native of Panama, where he shares dual citizenship with the United States, he is fluent in both Spanish and English and has traveled the globe sharing his message in both languages. Kevin's daughter Kaydee is his pride and joy, and one of his own main sources of inspiration.
ISBN: 9780692237687
ISBN-10: 9780692237687
Publisher: 3dquest
Publication Date: 08/01/2014 - 12:00am
On Sale: 08/01/2014 - 12:00am
Pages: 246
Language: English
Categories