Encore Provence: New Adventures in the South of France (Vintage Departures)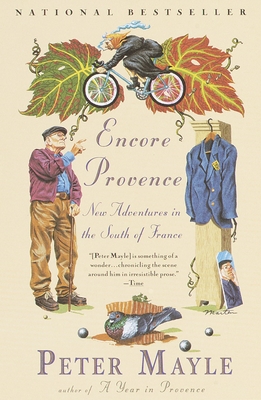 Encore Provence: New Adventures in the South of France (Vintage Departures)
In his most delightful foray into the wonders of Provençal life, Peter Mayle returns to France and puts behind him cholesterol worries, shopping by phone, California wines, and other concerns that plagued him after too much time away.

In Encore Provence, Mayle gives us a glimpse into the secrets of the truffle trade, a parfumerie lesson on the delicacies of scent, an exploration of the genetic effects of 2,000 years of foie gras, and a small-town murder mystery that reads like the best fiction. Here, too, are Mayle's latest tips on where to find the best honey, cheese, or chambre d'hìte the region has to offer. Lyric, insightful, sparkling with detail, Encore Provence brings us a land where the smell of thyme in the fields or the glory of a leisurely lunch is no less than inspiring.
Peter Mayle is the author of fifteen books, nine of them novels, including the beloved bestseller A Year in Provence. A recipient of the Légion d'Honneur from the French government for his cultural contributions, he lived in Provence with his wife, Jennie, for more than twenty-five years. Mayle died in 2018.
ISBN: 9780679762690
ISBN-10: 9780679762690
Publisher: Vintage
Publication Date: 04/25/2000 - 12:00am
On Sale: 04/25/2000 - 12:00am
Pages: 240
Language: English
Categories