The Raven Boys (Raven Cycle #1)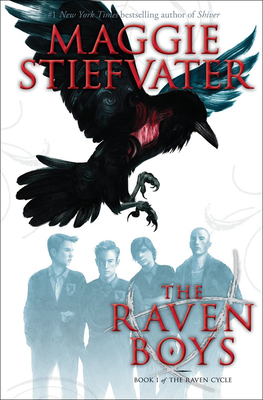 The Raven Boys (Raven Cycle #1)
An all-new series from the masterful, #1 New York Times bestselling author Maggie Stiefvater
"There are only two reasons a non-seer would see a spirit on St. Mark's Eve," Neeve said. "Either you're his true love . . . or you killed him."
It is freezing in the churchyard, even before the dead arrive.
Every year, Blue Sargent stands next to her clairvoyant mother as the soon-to-be dead walk past. Blue herself never sees them-not until this year, when a boy emerges from the dark and speaks directly to her.
His name is Gansey, and Blue soon discovers that he is a rich student at Aglionby, the local private school. Blue has a policy of staying away from Aglionby boys. Known as Raven Boys, they can only mean trouble.
But Blue is drawn to Gansey, in a way she can't entirely explain. He has it all-family money, good looks, devoted friends-but he's looking for much more than that. He is on a quest that has encompassed three other Raven Boys:

Maggie Stiefvater is the #1 NEW YORK TIMES bestselling author of the novels SHIVER, LINGER, FOREVER, and THE SCORPIO RACES. She is also the author of LAMENT: THE FAERIE QUEEN'S DECEPTION and BALLAD: A GATHERING OF FAERIE. She lives in Virginia with her husband and their two children. You can visit her online at www.maggiestiefvater.com.
ISBN: 9780606320283
ISBN-10: 9780606320283
Publisher: Turtleback Books
Publication Date: 07/30/2013 - 12:00am
On Sale: 07/30/2013 - 12:00am
Pages: 409
Language: English
Categories
Paranormal, Occult & Supernatural