Maren Stoffels Box of Horrors: Escape Room, Fright Night, Room Service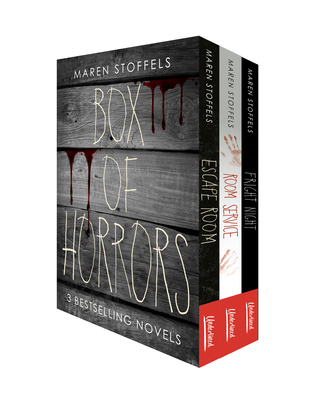 Maren Stoffels Box of Horrors: Escape Room, Fright Night, Room Service
Pre-Order (Not Yet Published)
Three must-read stand-alone novels from horror sensation Maren Stoffels, now available in a paperback boxed set!

Escape Room
There's no escaping this pulse-pounding thriller about teens being held captive in an escape room where the stakes are all too real.

Fright Night
Stay up all night with this frightening story about a group of friends who spend the night in a deserted forest, only to be faced with their biggest fears.

Room Service
Be careful what you order. In this terrifying read, a group of teens hope to celebrate a birthday in a luxury hotel, but partying isn't so fun when there's a killer on the loose.
Maren Stoffels published her first book at age seventeen. She likes stories that are based on real experiences. Reading her books make you feel like it could all happen to you. And maybe it will. . . .
ISBN: 9780593569771
ISBN-10: 9780593569771
Publisher: Underlined
Publication Date: 01/03/2023 - 12:00am
On Sale: 01/03/2023 - 12:00am
Pages: 720
Language: English
Categories