The Martian: A Novel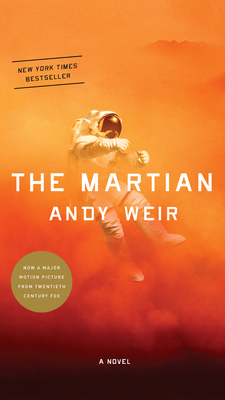 The Martian: A Novel
Pre-Order (Not Yet Available)
#1 NEW YORK TIMES BESTSELLER • "Brilliant . . . a celebration of human ingenuity [and] the purest example of real-science sci-fi for many years . . . utterly compelling."—The Wall Street Journal
 
The inspiration for the major motion picture
 
Six days ago, astronaut Mark Watney became one of the first people to walk on Mars. 

Now, he's sure he'll be the first person to die there.

After a dust storm nearly kills him and forces his crew to evacuate while thinking him dead, Mark finds himself stranded and completely alone with no way to even signal Earth that he's alive—and even if he could get word out, his supplies would be gone long before a rescue could arrive. 

Chances are, though, he won't have time to starve to death. The damaged machinery, unforgiving environment, or plain-old "human error" are much more likely to kill him first. 

But Mark isn't ready to give up yet. Drawing on his ingenuity, his engineering skills—and a relentless, dogged refusal to quit—he steadfastly confronts one seemingly insurmountable obstacle after the next. Will his resourcefulness be enough to overcome the impossible odds against him?
 
NAMED ONE OF PASTE'S BEST NOVELS OF THE DECADE

"A hugely entertaining novel [that] reads like a rocket ship afire . . . Weir has fashioned in Mark Watney one of the most appealing, funny, and resourceful characters in recent fiction."—Chicago Tribune 
 
"As gripping as they come . . . You'll be rooting for Watney the whole way, groaning at every setback and laughing at his pitchblack humor. Utterly nail-biting and memorable."—Financial Times
Andy Weir built a career as a software engineer until the success of his first published novel, The Martian, allowed him to live out his dream of writing fulltime. He is a lifelong space nerd and a devoted hobbyist of subjects such as relativistic physics, orbital mechanics, and the history of manned spaceflight. He also mixes a mean cocktail. He lives in California.
by Caroline
Wed, 05/27/2020 - 3:02pm
If you're looking for something a little more on the fiction-escapism route, I would definitely recommend The Martian by Andy Weir. The themes of hope and perseverance in a state of extreme isolation make for a suspenseful read, as well as helpful inspiration for dealing with our current situation. Not to mention it's full of interesting survival science… and space! Who doesn't love that?