Little Women (Be Classic)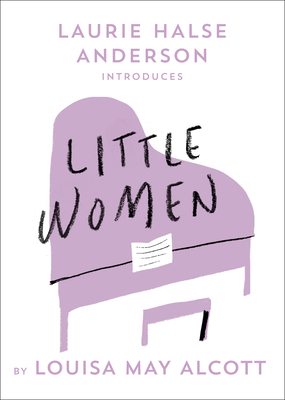 Little Women (Be Classic)
On Our Shelves Now
BE CLASSIC with Little Women, introduced by New York Times bestselling author Laurie Halse Anderson.

Grown-up Meg, tomboyish Jo, timid Beth, and precocious Amy. The four March sisters couldn't be more different. But with their father away at war, and their mother working to support the family, they have to rely on one another. Whether they're putting on a play, forming a secret society, or celebrating Christmas, there's one thing they can't help wondering: Will Father return home safely?
Louisa May Alcott was born in Germantown, Pennsylvania, in 1832, the second of four daughters of Abigail May Alcott and Bronson Alcott, the prominent Transcendentalist thinker and social reformer. Raised in Concord, Massachusetts, and educated by her father, Alcott early on came under the influence of the great men of his circle: Emerson, Hawthorne, the preacher Theodore Parker, and Thoreau. From her youth, Louisa worked at various tasks to help support her family: sewing, teaching, domestic service, and writing. Between 1863 and 1869, she published several anonymous and pseudonymous Gothic romances and lurid thrillers. But fame came with the publication of her Little Women (1868– 69), a novel based on the childhood adventures of the four Alcott sisters, which received immense popular acclaim and brought her financial security as well as the conviction to continue her career as a writer.

In the wake of Little Women's popularity, she brought out An Old- Fashioned Girl (1870), Little Men (1871), Eight Cousins (1875), Rose in Bloom (1876), Jo's Boys (1886), and other books for children, as well as two adult novels, Moods (1864) and Work (1873). An active participant in the women's suffrage and temperance movements during the last decade of her life, Alcott died in Boston in 1888, on the day her father was buried.


Laurie Halse Anderson has received both the Margaret Edwards Award and the ALAN Award for her contributions to young adult literature. She has also been honored by the National Coalition Against Censorship in recognition of her fight to combat the censoring of literature. She is the author of the groundbreaking National Book Award finalist and Printz Honor Book Speak. She is also author of the critically acclaimed YA books Prom, Twisted, Catalyst, Wintergirls, The Impossible Knife of Memory, and SHOUT. She has also authored a number of middle grade titles including the Vet Volunteers series; Fever 1793; and the historical fiction Seeds of America trilogy, which includes Forge, an ALA Best Book for Young Adults, and the National Book Award finalist and Scott O'Dell Award winner Chains. She and her husband live in northern New York State. Follow Laurie on Twitter @halseanderson and visit her at madwomanintheforest.com.