Soul-Care for Go-Getters: A 31 Day Devotional for Women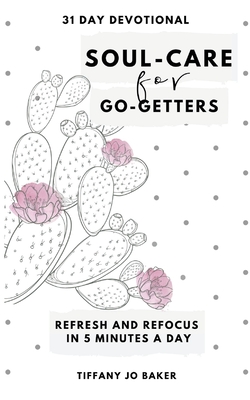 Soul-Care for Go-Getters: A 31 Day Devotional for Women
Order Online (Out of Stock In Store)
When was the last time you felt refreshed or focused despite your never-ending ideas and to-do list? Sometimes in all our giving and getting, we get too busy and skip the most important step. Even though the things we are doing are for God, at times we don't stop long enough to let Him fill us with what we need in order to do what He's called us to do.
It's time for a powerful pause.
Designed for women with full lives and plates, this devotional provides 31 days of relatable stories, bite-sized nuggets of biblical wisdom, takeaway journal sections and declarative prayers that provide peace and purpose in the morning moments with Him. Each entry will jump-start your day with the right perspective before you jump into your big ideas, mundane moments and checking off your to-do list.
Soul-Care for Go-Getters (31 Day Devotional) makes the perfect gift for the goal-getters, multifaceted mamas, entrepreneurs, college students and ministry leaders in your life.
ISBN: 9780578750675
ISBN-10: 9780578750675
Publisher: Tiffany Jo Baker LLC
Publication Date: 09/21/2020 - 12:00am
On Sale: 09/21/2020 - 12:00am
Pages: 120
Language: English
Categories
Christian Living - Inspirational