The Unperceived Continuity of Isaiah (Jewish and Christian Texts)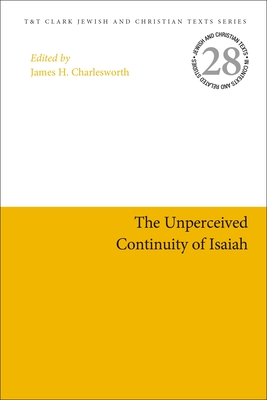 The Unperceived Continuity of Isaiah (Jewish and Christian Texts)
Order Online (Out of Stock In Store)
This volume highlights the textual evolution of the biblical book called Isaiah from the eighth to the third centuries BCE. The book was probably the most important Scripture for the Community that collected or composed the Dead Sea Scrolls; it significantly shaped the life and thoughts of John the Baptizer, Jesus, Paul, and the Evangelists. Distinguished scholars from the United States, Israel, Greece, and elsewhere discuss the continuing influence of Isaiah from antiquity to today and significantly through Jewish and Christian liturgies.
With high-profile contributors including Dale Allison, Jeffrey Chadwick, James Charlesworth, and Emanuel Tov, the volume explores how the Book of Isaiah influenced Jewish and Christian texts and life for nearly three millennia. The collection develops from the insights and continuity of Isaiah itself to its relevance in the Dead Sea Scrolls, the lives of John the Baptizer and Jesus, as well as Paul's Letter to the Romans and the Intra-Canonical Gospels. This collection presents highly creative and ground-breaking scholarship focused on the origin and vital role of one of the most influential books in our culture.
James H. Charlesworth is the George L. Collord Professor of New Testament Language and Literature and Director of the Dead Sea Scrolls Project at Princeton Theological Seminary, USA.
ISBN: 9780567695215
ISBN-10: 9780567695215
Publisher: T&T Clark
Publication Date: 06/25/2020 - 12:00am
On Sale: 06/25/2020 - 12:00am
Pages: 256
Language: English
Categories