Teddy & Co.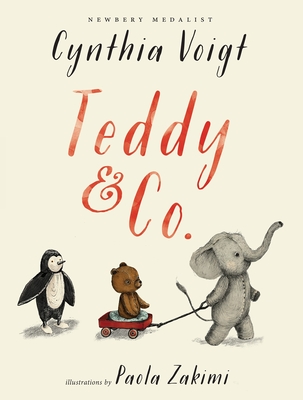 Fans of classic toy stories like Winnie-the-Pooh by A. A. Milne, The Miraculous Journey of Edward Tulane by Kate DiCamillo, and Toys Go Out by Emily Jenkins will love this illustrated novel by Newbery Medalist Cynthia Voigt.

Winner of a Parents Choice Silver Honor Award 

Teddy is a thinking kind of bear. Of all his friends, he does the most wondering. He lives with a ragtag group of lost toys—a very hungry snake, an elephant who likes to bake, two charmingly silly pigs, and a reclusive penguin—and they all bump along happily together. But their peaceful world gets shaken up when new toys arrive—first a rabbit, who is not as soft and floppy as he looks, and then a beautiful doll with royal ambitions. Will the newcomers learn to fit into the community? Or will the community be forever changed by them? As Teddy the philosopher would answer: Yes.
 
Cynthia Voigt's charming tale of community and compromise comes alive in the adorable pictures from Paola Zakimi. Fully illustrated and lovingly designed, this book would make a terrific gift or family read-aloud.

"An affirming celebration of friendship, kindness, and embracing new experiences and relationships." --Publishers Weekly

"This work has a classic sensibility, reminiscent of Winnie-the-Pooh. A great option for one-on-one bedtime read-alouds." --School Library Journal
Cynthia Voigt is the acclaimed author of many books, including Dicey's Song, winner of the Newbery Medal; A Solitary Blue, winner of a Newbery Honor; and Homecoming, a National Book Award finalist. For the body of her work, Cynthia Voigt was honored with the Margaret A. Edwards Award for Outstanding Literature for Young Adults. For younger readers, her books include the Mister Max trilogy, Young Fredle, and Angus and Sadie. You can read more about her work at CynthiaVoigt.com.