Harry Potter and the Sorcerer's Stone: The Illustrated Edition, Collector's Edition (Harry Potter, Book 1)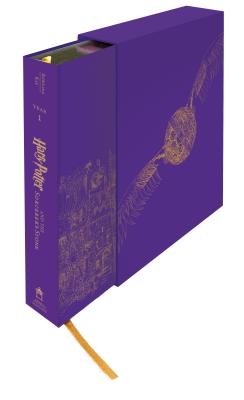 Harry Potter and the Sorcerer's Stone: The Illustrated Edition, Collector's Edition (Harry Potter, Book 1)
For the first time, J. K. Rowling's beloved Harry Potter and the Sorcerer's Stone will be presented in a lavishly illustrated full-color edition. Kate Greenaway Award-winning artist Jim Kay has created over 100 stunning illustrations, making this new edition the perfect gift for a child being introduced to the series, as much as for the dedicated fan. In addition to the jacketed hardcover illustrated edition, we are pleased to offer a small-run, high-end, collector's format in time for the 2015 holiday season. Special features will include:

Clothbound hardcover in slipcase
Gold foil stamped artwork on book cover and slipcase
Gilt-edged pages
Two-and-a-half-foot-wide accordion-folded removable poster
Two ribbon bookmarks
Packed in bespoke individual mailing cartons
Printed in Italy
A rare opportunity and a luxurious reading experience.
J.K. Rowling is the author of the seven Harry Potter books, which have sold over 500 million copies, been translated into over 80 languages, and made into eight blockbuster films. She also wrote three short series companion volumes for charity, including Fantastic Beasts and Where to Find Them, which later became the inspiration for a new series of films. Harry's story as a grown-up was later continued in a stage play, Harry Potter and the Cursed Child, which J.K. Rowling wrote with playwright Jack Thorne and director John Tiffany.
In 2020, she returned to publishing for younger children with the fairy tale The Ickabog, which she initially published for free online for children in lockdown, later donating all her book royalties to help vulnerable groups affected by the Covid-19 pandemic.
J.K. Rowling has received many awards and honors for her writing, including for her detective series written under the name Robert Galbraith. She supports a wide number of humanitarian causes through her charitable trust Volant, and is the founder of the children's care reform charity Lumos.
For as long as she can remember, J.K. Rowling wanted to be a writer, and is at her happiest in a room, making things up. She lives in Scotland with her family.
Jim Kay won the Kate Greenaway Medal in 2012 for his illustrations in
A Monster Calls
by Patrick Ness. Jim studied illustration at the University of Westminster and since graduating has worked in the archives of Tate Britain and the Royal Botanic Gardens at Kew. Jim has produced concept work for television and contributed to a group exhibition at the Victoria and Albert Museum in London. He now lives and works in Northamptonshire, England, with his wife.
by Abby
Fri, 05/29/2020 - 1:27pm
This book gets a place of honor (despite the fact that it doesn't need a recommendation), because it has transcended age boundaries more than any other book I've read. My parents started reading it aloud to my brother and I when we were in elementary school, all clustered together on a couch or spread out across the living room. They did voices, they did gestures, they passed the book back and forth so the other could drink some coffee.
From A Bookseller Through the Ages
I don't have a particularly strong memory, but that is one that has stuck with me to this day. My family continued to read or listen to the series together until the end. So if you're looking for a story that functions perfectly as a read aloud, this may be your pick—both the books and the audiobooks are lovely (check out Libro.fm for the audio).
ISBN: 9780545919661
ISBN-10: 9780545919661
Publisher: Arthur A. Levine Books
Publication Date: 11/12/2015 - 12:00am
On Sale: 11/12/2015 - 12:00am
Pages: 256
Language: English
Categories
Juvenile Fiction / Fantasy & Magic