Harry Potter and the Sorcerer's Stone (Book 1)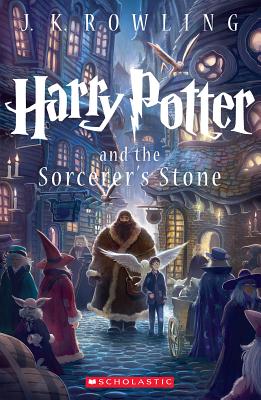 Harry Potter and the Sorcerer's Stone (Book 1)
This special edition of Harry Potter and the Sorcerer's Stone has a gorgeous new cover illustration by Kazu Kibuishi. Inside is the full text of the original novel, with decorations by Mary GrandPré.

Harry Potter has never been the star of a Quidditch team, scoring points while riding a broom far above the ground. He knows no spells, has never helped to hatch a dragon, and has never worn a cloak of invisibility.

All he knows is a miserable life with the Dursleys, his horrible aunt and uncle, and their abominable son, Dudley — a great big swollen spoiled bully. Harry's room is a tiny closet at the foot of the stairs, and he hasn't had a birthday party in eleven years.

But all that is about to change when a mysterious letter arrives by owl messenger: a letter with an invitation to an incredible place that Harry — and anyone who reads about him — will find unforgettable.

For it's there that he finds not only friends, aerial sports, and magic in everything from classes to meals, but a great destiny that's been waiting for him… if Harry can survive the encounter.


J. K. Rowling is the author of the beloved, bestselling, record-breaking Harry Potter series. She started writing the series during a delayed Manchester to London King's Cross train journey, and during the next five years, outlined the plots for each book and began writing the first novel. Harry Potter and the Sorcerer's Stone was published in the United States by Arthur A. Levine Books in 1998, and the series concluded nearly ten years later with Harry Potter and the Deathly Hallows, published in 2007. J. K. Rowling is the recipient of numerous awards and honorary degrees including an OBE for services to children's literature, France's Légion d'Honneur, and the Hans Christian Andersen Literature Award. She supports a wide number of causes through her charitable trust Volant, and is the founder of Lumos, a charity working to transform the lives of disadvantaged children. J. K. Rowling lives in Edinburgh with her husband and three children.

Kazu Kibuishi is the creator of the New York Times bestselling Amulet series and Copper, a collection of his popular webcomic. He is also the founder and editor of the acclaimed Flight anthologies. Daisy Kutter: The Last Train, his first graphic novel, was listed as one of the Best Books for Young Adults by YALSA, and Amulet, Book One: The Stonekeeper was an ALA Best Book for Young Adults and a Children's Choice Book Award finalist. Kazu lives and works in Alhambra, California, with his wife and fellow comics artist, Amy Kim Kibuishi, and their two children. Visit Kazu online at www.boltcity.com.

Mary GrandPré has illustrated more than twenty beautiful books for children, including the American editions of the Harry Potter novels. Her work has also appeared in the New Yorker, the Atlantic Monthly, and the Wall Street Journal, and her paintings and pastels have been shown in galleries across the United States. Ms. GrandPré lives in Sarasota, Florida, with her family.


by Abby
Fri, 05/29/2020 - 1:27pm
This book gets a place of honor (despite the fact that it doesn't need a recommendation), because it has transcended age boundaries more than any other book I've read. My parents started reading it aloud to my brother and I when we were in elementary school, all clustered together on a couch or spread out across the living room. They did voices, they did gestures, they passed the book back and forth so the other could drink some coffee.
From A Bookseller Through the Ages
I don't have a particularly strong memory, but that is one that has stuck with me to this day. My family continued to read or listen to the series together until the end. So if you're looking for a story that functions perfectly as a read aloud, this may be your pick—both the books and the audiobooks are lovely (check out Libro.fm for the audio).